Happy Birthday Sonic the Hedgehog!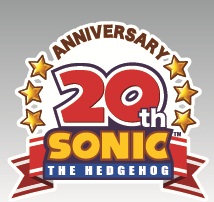 Today, we celebrate one of the most iconic video game characters in the history of the industry.  Nemesis to Nintendo's Mario, this character launched the first console that would rival the Atari crushing juggernaut.  15 million copies of his first game were sold to catapult SEGA's console market share to a staggering 65% when it was bundled with the Genesis, outselling the Super Nintendo by a staggering 2 to 1.
Sonic the Hedgehog would go on to spawn dozens of sequels and spin-offs to sell over 80 million units worldwide.  Ten years after his creation he would arrive on his first foreign console, Nintendo's GameCube having outlived SEGA's ill-fated hardware line.  Ever since, Sonic the Hedgehog has appeared on every major console since 2001, and today he turns 20 years old.
Here are some of Sonic the Hedgehog's milestones over the years:
June 23, 1991 – Sonic the Hedgehog is released for the Sega Genesis (known in Japan as the Mega Drive)
November 21, 1992 – Sonic the Hedgehog 2 is released for the Sega Genesis in Japan.  Introduces Tails as a playable character.  Features cooperative and competitive multiplayer modes.
June 1993 – The Sonic the Hedgehog comic series' first issue is released by Archie Comics.  It is currently at issue #225.
September 6, 1993 – The Adventures of Sonic the Hedgehog animated series is launched on ABC.  Jaleel White (Urkel) voices Sonic.  The show runs for one season (65 episodes).
November 1993 – Becomes the first video game character to have a balloon in the Macy's Thanksgiving Day Parade.
June 19, 2001 – Sonic Adventure 2 releases in Japan.  Introduces Shadow the Hedgehog to the franchise.
December 10, 2001 – Sonic Adventure 2 releases for the GameCube.
November 2007 – Appeared on the same video game cover as Mario for the first time (Mario & Sonic at the Olympic Games)
January 31, 2008 – First appearance on Super Smash Bros. Brawl.
To celebrate, SEGA is releasing Sonic Generations on the PlayStation 3, Xbox 360, and Nintendo 3DS on November 22, 2011.  Generations will feature a collection of levels derived from some of the classic favorites across games of the past.  Sonic will be playable in both his modern look, as well as his 90's counterpart as a mysterious enemy has created time holes which pull Sonic and friends back into the past.  Help both Sonics as they work together to find out who the evil mastermind is and save their friends.
So while we're all waiting for his new adventure, let's all bake a cake and wish a very happy birthday to Sonic.  Here's to another 20 years!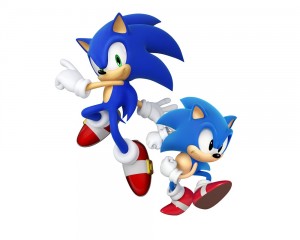 Tell us what you think!  Drop us a line on our Community Boards!