Ms. Splosion Man Coming to Pinball FX2 on Xbox Live
While we don't normally cover press releases, this one most certainly grabbed our attention.  Being big fans of ZEN Studios Pinball FX2 and Twisted Pixel's Splosion Man/Ms. Splosion Man franchises, just about everyone here at Wanderson75.net melted when this news came out.
ZEN Studios and Twisted Pixel have partnered up to make 'sploding even better with a Ms. Splosion Man themed pinball table!  According to Mel Kirk, VP of Marketing and Public Relations at ZEN Studios, "We told the Twisted Pixel crew we were going to break in and steal all the Ms. Splosion Man stuff so we could make a pinball table for them. We put our super stealth ZEN sniper on the project and what can I say, mission accomplished."  However, Twisted Pixel retaliated by boosting some of PFX2's assets for their own pinball machine in the arcade area of Ms. Splosion Man.
According to the release from ZEN Studios, "Set in the crazy labs of Big Science, the latest tests in experimental science have gone all wrong, and Ms. Splosion Man must splode her way through obstacles utilizing the latest in tech gadget innovation in her quest to free Splosion Man from the grips of evil scientists. Featuring plenty of interactive 3D characters and objects pulled directly from the Ms. Splosion Man game, players will complete sets of sploding missions and combos, culminating in a final battle with Mighty Eternal."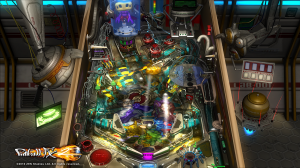 "Turns out, sploding is a GREAT mechanic on a pinball table and the evil geniuses at ZEN took the idea and ran with it!" explains Twisted Pixel CEO Michael Wilford. "As big fans of pinball in general, we proudly acknowledge ZEN Studios as the masters of virtual pinball. In Ms. Splosion Man there is an arcade room in the world map where players can find a virtual Pinball FX2 table where you can dive right into the hot XBLA pinball action directly."
Jay Stuckwish from Twisted Pixel had this to add regarding Ms. Splosion Man's extra appearance this summer, "We are ecstatic to work with such an awesome group over at Zen, and be included in such an amazing game!  It looks great, I have no doubt people will love it."
Ms. Splosion Man on PFX2 will also feature new Achievements, operators menu, and rule sheet.
If you're a fan of Pinball, ZEN Studios Pinball FX2 is the game for you.  With additional themed tables such as the Street Fighter, Rocky n' Bullwinkle and the recently released Captain America the action never stops!
Pinball FX2 is already available on Xbox Live Arcade for 240 Microsoft Points.  The Ms. Splosion Man table theme will be releasing later this summer.