Nerdcore Rising – Get Elevated!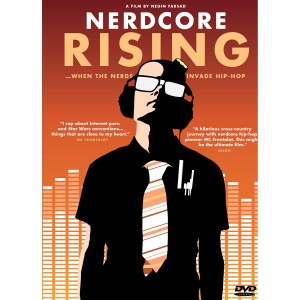 Damian Hess, better known by his stage moniker MC Frontalot, takes us for a behind the scenes look as they embarked on their first tour.  Starting in South Carolina and driving cross-country you follow Front, Sturgis, G Minor 7, Black Lotus, and Brandon in the good times and bad as they explore the unknown by bringing Nerdcore Hip Hop to the masses.
Nerdcore Hip Hop, a term first coined by MC Frontalot in a 2000 song of the same name, has become the musical focal point of nerds, geeks, and freaks since the spawning the entire sub-genre.  This style of music combines hip-hop with nerdy pop culture references such as Star Wars, Comic Book Conventions or Japanimation as the topics of these songs.
MC Frontalot's documentary features notable artists from fellow Nerdcore groups such as Optimus Rhyme, MC Chris, and Nursehella as they define what charterizes a nerd and the attraction to this new culture.  They also interview notable geeks such as Weird Al Yankovic, Penny Arcade's Mike "Gabe" Krahulik, and Jerry "Tycho Brahe" Holkins and numerous geeks and nerds that attend Front's shows.
Nerdcore Rising isn't just an exploration of Nerdcore Hip Hop, but an exploration behind what makes a nerd or geek who they are.  Many people, Front included, share their experiences of growing up as a nerd and their realizations that they are not alone.  And in fact, they are many.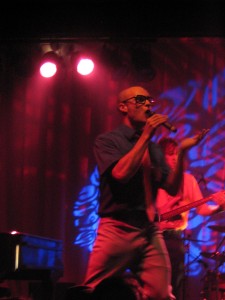 Along with the overall message of how geeks should embrace and feel good about who and what they are,  Nerdcore Rising features MC Frontalot's Tour, including  a performance of the title song, Nerdcore Rising at the Penny Arcade Expo in 2006.  If you haven't yet experienced the music of Nerdcore, this is a good opportunity to sit down and introduce yourself to the tunes coming straight from the "Godfather of Nerdcore Hip Hop".
Nerdcore Rising is full of fun and wacky moments, interviews by tons of notables in the Nerdcore Hip Hop genre, music producers, and other geek icons. It is definitely something you should check out and pick up.  You can purchase the DVD from MC Frontalot's website, Best Buy, iTunes, or rent it off of Netflix and Hulu.
And while I'm at it, if you'd like to experience his music first-hand, you can find a list of tour dates here.  I for one will definitely be attending the show in Ann Arbor on August 16th at the Blind Pig on South 1st Street.  This world tour kicks off in San Diego for the SDCC and makes 27 stops covering a good chunk of the Midwest.  Mc Frontalot's tour is something that you don't want to miss!