IGN UK Podcast100 Party at the 100 Club!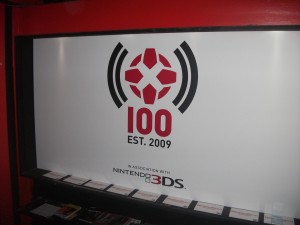 The 100 Club played host to IGN UK as they celebrated reaching 100 podcasts. Wanderson75 was there to enjoy, and join in, the festivities!
A month ago, IGN UK announced that they would be celebrating their 100th podcast milestone and were going to do it by having a birthday party. IGN UK slowly leaked details about the event. First came the location; the 100 Club in London's Oxford Street, which has played host to a variety of musical talent ranging from The Rolling Stones to The White Stripes. Soon after came the announcement that Insert Coin would be making a limited edition T-Shirt to commemorate the event, one of which I was lucky enough to get my hands on! The final big surprise came the week before, when they announced that Nintendo would be supporting the event by giving guests the chance to play a whole host of unreleased 3DS games. It wasn't long before fans began to foam at the mouth in anticipation!
As for the event itself, it was gamer heaven from start to finish. Even before entering, guests were given a taste of what could be expected from the night, with the IGN UK editors being nice enough to come and talk everyone waiting outside. After navigating what was a surprisingly long queue outside the 100 Club, we were greeted by three fully clad Stormtroopers acting as the evening's security. They would have been fairly intimidating if they weren't so awesome! Once inside the 100 Club, it was clear that the guys (and girl) at IGN UK had made sure you knew what the event was about. The 100 Club had been decked out with the IGN UK logo and podcast100 posters covering the walls and, of course, the 100 Club's iconic giant 100 was given pride of place.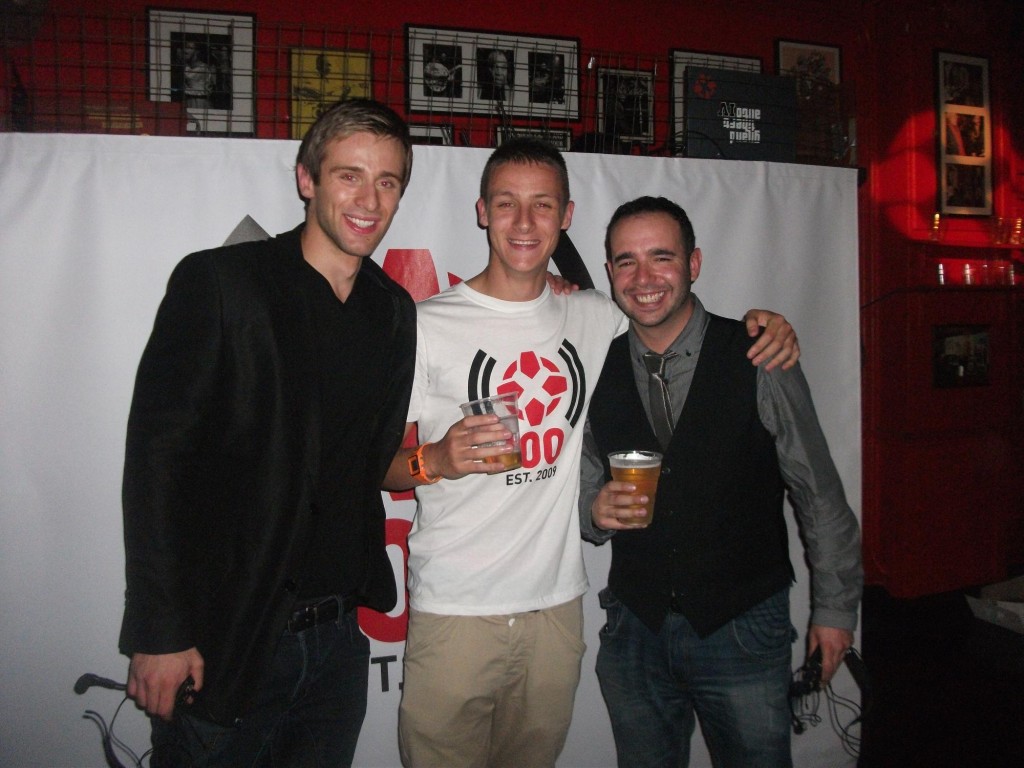 The whole evening was a great service to fans of the podcast and showed that the guys over at IGN's UK office are actually a nice bunch!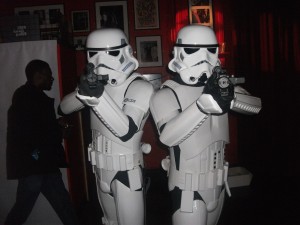 There were many activities during the event and it was all set to a great soundtrack provided Nintendisco, who delighted everyone's ears with their unique mix of music and iconic videogame soundtracks. Nintendisco was a great fit for the event, giving it an atmosphere only they could provide. Once the night was in full swing, there was a quiz, with a brand new 3DS and three games up for grabs for the winner. This got the crowd involved and showed that this was a night as much about the fans as it was to celebrate the podcast reaching its 100th episode.
IGN UK also made the risky decision of recording the podcast live in front of a couple of hundred videogames fans, which proved to be the highlight of the night. Heavy on audience interaction, it was a chance for fans of the podcast to air their opinions on everything videogame related. It provided some of the funniest and most memorable moments of the night and let everyone show their love for the podcast team, even if this adoration manifested in cake made from chocolate and Marmite! The IGN UK editors, once again, showed that they were gracious hosts, as they were nice enough to stick around after the podcast had been recorded to mingle and take photos with fans.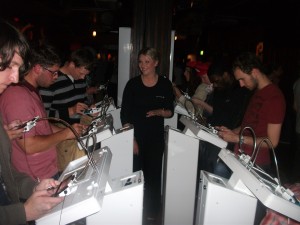 What really put the gloss on the incredible night was Nintendo providing the many 3DS pods and game demos for the event.  As mentioned before, Nintendo had been kind enough to give guests the chance to play six unreleased titles. These were: Mario Kart 7, Super Mario 3D, Metal Gear Solid: Snake Eater 3D, Kid Icarus Uprising, Starfox 64 3D, and Luigi's Mansion 2. Each of these contained around 10 minutes of gameplay and gave a great account of what every one of the games was about.  These are all stellar titles that are sure to give 3DS the impetus to really get the platform moving. However, it was Super Mario 3D that really stood out, with Nintendo's stalwart mascot going back to his roots in what is promising to be a definitive 2D platformer that utilises the 3DS's unique characteristics. Based on what was shown, it's safe to say that Nintendo's newest handheld is about to get a shot in the arm.
If this event showed anything though, it was just how much the image of the gamer has changed. This wasn't a room full of sun-deprived geeks with no social skills; rather it was a gathering of vibrant, sociable and passionate videogames fans celebrating that their favourite weekly podcast had finally reached its 100th episode!
Thanks Nintendo, Insert Coin, Nintendisco and the 100 Club for a great night, but the biggest thanks goes to IGN UK! Congratulations on 100 episodes and everyone at Wanderson75 hopes you go on and on. Here's to 100 more!
Hit the links below for what IGN UK thought about the night and a highlights video.
http://go.ign.com/oc4e1q
http://youtu.be/HDFEL6i9xi4
Look out for IGN UK's weekly podcasts on iTunes.