EuroGamer Expo 2011: A Weekend Review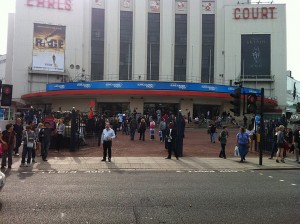 Wow, what an incredible four days! EuroGamer Expo 2011 blew me away and surpassed all my expectations with awesome games, consoles, and developer conferences – and that's before I've even mentioned the games industry careers fair, Insert Coin's stunning stand, and OnLive giving away 3,000 of their revolutionary micro-consoles for free!
It truly was a weekend of pure, unadulterated gaming bliss.  It was the chance to play some of the most anticipated games of this generation.  Triple-A titles littered the show floor with Skyrim, RAGE, Batman: Arkham City, Battlefield 3, and Modern Warfare 3 all making an appearance for fans to enjoy.  It wasn't just about the games though; Sony demoed its new handheld, PS Vita, for the first time in the UK, and OnLive used the first day of the expo as a chance to announce that its European servers had gone live.
There was so much to see and do, and even with the extra hour that my press pass got me, it seemed like the 10 hours just wasn't enough! Like some sort of gaming stormtrooper, I managed to visit all of the booths with strong showings from Sony, Microsoft, Bethesda, EA, and Infinity Ward, to name a few.  In addition to showcasing new games and consoles, it was also a celebration of games culture with an industry employment fair offering fans the chance to meet with various games industry employers and find out what you need to get into the industry.  There was also the chance for fans to get their hands on some stunning gaming-inspired garments courtesy of Insert Coin, whose stall was one of the most visited of the entire show; not only were clothes on offer, but there was also an artist's booth with prints, canvasses, and posters all available for purchase.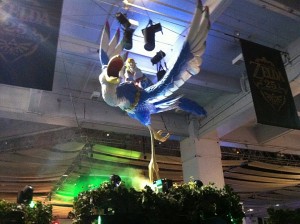 The early start, though, meant that I was able to get hands-on with some of the biggest games before the masses made it impossible to do so.  Nintendo's Zelda: Skyward Sword was the first booth I saw; decked out with Zelda 25th anniversary logo and Skyward Sword models and art, it was a stunning booth.
There were two other stands that competed closely with Zelda's artistic brilliance. The first was Rocksteady's Batman: Arkham City booth, which was covered in artwork of the various villains seen in the game – each a striking and magnificent advert for the game – and was topped off with the iconic Batman logo being shone on to the show-floor.  The second was Bethesda's Skyrim booth: an understated masterpiece with the four signs covered with various images of the games protagonist and the Skyrim logo.  The booth reflected the visual magnificence contained within; needless to say, it was popular with fans.
Aside from playing the games and being stunned by how intricate and well-designed each of the developers' booths was, I also got to sit in on various developer sessions. The first session I attended was the OnLive European launch.  Hosted by CEO Steve Perlman, it was a chance to see various features of the system and what had been added for the service's European launch.  Steve also gave some insights for what's in store for this bold, new world of gaming and social connectivity.
The second developer session I sat in on was with Uncharted developer Naughty Dog.  Alongside lead developer, Richard Lemarchand, who has a surprisingly English accent for an American, was Nolan North who lends his voice for Nathan Drake. Those in attendance were rewarded with some great insights about the game development, how Naughty Dog comes up with its ideas, as well as some comic commentary on the gameplay from Nolan.  However, what really made this session special was the world-premier footage of the second gameplay video that was shown exclusively to us. Needless to say, Uncharted 3 looks like it's going to be another mega hit for Naughty Dog, which will surely cement its reputation as a maker of outstanding games.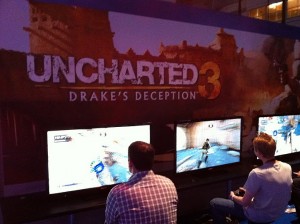 The final developer session I attended was for Trion Worlds MMO-RTS, End of Nations. Having already played around 45 minutes of the game with Lance James from Trion Worlds (who was awesome by the way!), a lot of what was shown I had already seen, but it was a great opportunity to see how Trion Worlds intends to refresh a genre that they deem to be stagnant.  To sweeten the deal, Trion Worlds even gave the first 100 people in the queue a free copy of their hugely successful MMO-RPG Rift – and yes, I got a copy!
Despite all of the excitement with the new games, we can't forget about PS Vita and OnLive!  EuroGamer was the platform that Sony and OnLive used to debut their new systems.  First off, OnLive was launched during the first day of the expo, with 3,000 systems given away to fans.  I also got the chance to play some games from the system; once you get over the lack of load times, it feels like the natural progression of console gaming.  Onlive is one to keep an eye on that will change console gaming forever.
The launch of OnLive was big news, but it was the chance to get hands-on with PS Vita that really impressed.  Throughout the four days, the queue lines at the PS Vita stand were constantly full – and with good reason! Vita looks like it's going to take the handheld market by the scruff of the neck and drag it into the next generation. It's a feature-packed system that offers so much for developers and gamers alike. Look out Nintendo, your grip on the handheld market faces a serious threat!
Now, if I had to make a choice on which was the most exciting game of the show, I'd be hard pressed to pick just one.  Skyrim, Rage, Arkham City, Battlefield 3, and Modern Warfare 3 all put in great showings. Of those, Skyrim and Arkham City were the ones that really stood out. Both were a joy to play, graphically stunning, and showed massive advancements for their respective series.  However, they both felt like I expected them to. On the other hand, Ghost Recon: Future Soldier was something completely different and was hugely enjoyable to play, and Trion Worlds' free-to-play End of Nations was equally impressive.  I'll get to the point; my game-of-the-show goes to… The Elder Scrolls V: Skyrim (but I have to make special mention of Ghost Recon: Future Soldier as it promises to be an enjoyable and different type of shooter).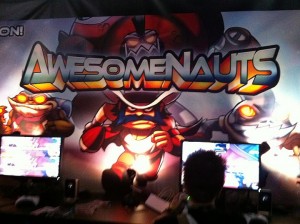 Overall, EuroGamer Expo 2011 was an amazing experience that was packed with some huge surprises. In addition to playing the biggest games, bagging freebies, and meeting some awesome people, I also got the chance to see some footage of Uncharted 3 which has convinced me that Skyrim's run to the 'Game of the Year' crown might not be as simple as I first thought.
After four days I was exhausted, on the brink of sensory overload, and suffering from carpel tunnel syndrome. It was worth it though, because every second of EuroGamer Expo 2011 was just incredible and, as I left Earl's Court, my brain was begging me to go back for more!
Here's looking forward to EuroGamer 2012, only 360 more days to go.  This should fly by, even if I only buy a third of the games that were shown!