Places To Do – Toronto: PlayStation Lounge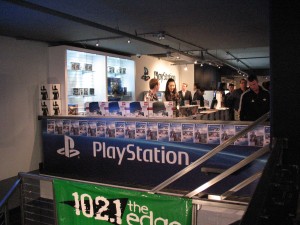 At 267 Yonge Street in Downtown Toronto, just a block south of Dundas Square and across the street from the Eaton Centre, Sony Canada has teamed up with GameStop to bring gamers the PlayStation Lounge.  Perched up on the second floor of this huge gaming retail shop, you'll find a nirvana to PlayStation lovers!
Today, the Lounge's first visitors were treated to music from 102.1 The Edge and autograph sessions with the Toronto Maple Leafs Defenseman Luke Schenn and Naughty Dog Game Designer Robert Cogburn.  Hockey Pucks and Nathan Drake scarves were given to the lucky first 100 attendees to be signed by the notables, but if you didn't make it soon enough, they were more than happy to sign whatever you had on hand (including plenty of copies of Uncharted 3 and NHL 12 to purchase if you so desired).
Walls were adorned in PlayStation décor, with televisions everywhere showing off the latest games, trailers, and commercials featuring fan favorite Kevin Butler.  Many gaming stations were available as well, showcasing the most recent and popular PlayStation titles including Uncharted 3: Drake's Fortune, Ratchet and Clank: All 4 One, and Gran Turismo 5 in driving stations complete with Recaro racing seats and Logitech Driving Force GT Racing wheels.  Also on display were the hottest titles for sale for the PlayStation 3 and PSP, as well as a station designated for the PlayStation Vita when it comes to market this February.

Sony has really pulled out all of the stops for gamers giving them a place to hang out and get some hands-on time with the best offerings for the PlayStation franchise.  Unlike the Microsoft counterpart on Queen Street, the PlayStation Lounge is here to stay to be enjoyed by gamers year round.  However, I would recommend that you get on location to take a look around, and inquire about some of the upcoming tournaments and events that will be taking place at both the Lounge and the GameStop in the coming weeks!
Editor's Note: Our friend Paulo Rubio just dropped a video on us that you should take a look at.  If you like what you see, you should check out his other films at rubiofilms.com: