Wanderson75.net's Black Friday Picks and Tips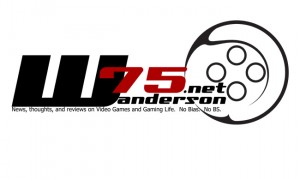 The inevitable is coming.  Along with the celebration and cheer that goes with our annual feast with loved ones we seldom see throughout the year, there is also the excitement or dread to be felt with the aftermath that will be met the following day: Black Friday.  So many stores offering door-crashing prices galore draw deal seekers young and old, far and wide to get up in the wee hours of the morning, and make their trek to every retailer they can to get the best deals possible.
So as a gamer, what's the best place to go?  And what deals are best to look at?  Well, we here at Wanderson75.net might have a couple of recommendations!
Both the PlayStation 3 and Xbox 360 have fantastic offerings in their game catalogs, and if you've been waiting for a deal to come around to buy whichever console you don't have under your cabinet, now's that time!  For the Xbox 360, the best deal that we're seeing is the 250GB Slim Console with Fable III and Halo Reach Download for $199.  Best Buy is featuring this bundle, as well as Sam's Club if you have a membership.  However, if you're in the market for a PlayStation 3, you can grab the $199 bundle that sports a 160GB Hard Drive, Little Big Planet 2 Special Edition and Ratchet and Clank: All 4 One.  Best Buy has this bundle, as well as Target, Meijer, and Walmart.
Best Buy is really coming out ahead on the games as well.  They'll be offering the Skylanders Mega Pack, which includes the core pack with the pedestal and three characters, and additional Three Character Pack, as well as the Pirate Seas Adventure Pack all for $80.  This is a fantastic bundle and a great gift for the little gamers (as well as many adults) in your house.
If you have Kinect, Best Buy is also offering Raving Rabbids: Alive and Kicking, Dance Central 2, Just Dance 3, and Once Upon a Monster for $24.99, a significant savings of $15-$25 on these titles.  Of course, if you don't have Kinect, you can nab one for $99 at Best Buy, Walmart or Target.  If you have a taste for the core games, Deus Ex: Human Revolution and Gears of War 3 will be on sale for $30 (50% off) and Forza Motorsport 4 and Assassin's Creed Revelations will be going for $35.
Best Buy isn't the only place offering awesome game deals, Target is a little bit cheaper on Forza Motorsport 4 at $27 and will have Battlefield 3, Resistance 3, Madden 12 and Need for Speed: The Run going for $37.  While they aren't offering the 250GB Xbox Slim console bundle, they do have the 4GB console for $140.  It's a good starter, but for the extra $60, you might as well get the full monty plus a couple of good games to boot.
TV Deals are abound as well!  Best Buy seems to have the best buys (see what I did there?) with a Panasonic 50″ Plasma TV at 1080p/600Hz for $600; although I've got my eyes on the LG 42″ LED TV at 1080p/120Hz for $549.  Both are exceptional deals, and each has their advantages and disadvantages.  For me, it comes down to wall space.
Best Buy seems to really be putting out a good showing for the gamer market with their deals.  Surprisingly, GameStop doesn't seem to have the greatest offerings, as the very same Xbox 360 250GB Slim bundle is running for a full $100 more than Best Buy.  Our pick overall for the greatest Black Friday deals would likely be Best Buy.  If you're shopping for more than just games, we recommend heading over to BFAds.net for the latest ad-scans to do your planning.  Which brings us to our next tip, what do you do to plan for Black Friday?
First off, make sure you do a little bit of research beforehand.  Have an idea of what you're looking for, check for the deals that fit you best, and plan your route according to your priorities.  Black Friday is the last day of the holiday shopping season where you want to be driving around aimlessly as the traffic will be insane, and first-comers will be the ones to nab the best deals.  Make sure that you arrive early (at least an hour before the stores open) to get in and out as quickly as possible.  There's no need to camp out in front of the store days in advance unless you're planning on going for the "Door Buster" items, and more often than not, these deals aren't much better than the all day deals that the store will have.
Once you have your route planned and scheduled, make sure that you get a decent amount of rest.  Fortunately for most of us, we'll be getting more than a healthy dose of turkey in our system which tends to make us sleepy.  Instead of taking a short nap, head on home and get to bed early.  This will make getting up at 2AM or Midnight much easier than breaking up your sleep by taking the equivalent of multiple naps.
Case the store.  No, you're not breaking in, but a person that knows exactly where they need to go will be more likely to get the best deals than the people who are wandering around aimlessly.  You want to get in, get your stuff, and get to the checkout lane as quick as possible.
Bring something hot to drink!  If you're in the Northern US, Midwest, or Northeast, this is doubly important as it will be super cold outside in the wee hours of the morning.  Stop at a Dunkin Donuts, Tim Horton's, or McDonald's and get a nice big hot cup of coffee or hot chocolate.  Keeping warm is just as important as planning ahead.
Finally, keep your cool.  You're going to be running into a lot of jerks on Black Friday, more than likely because they weren't prepared, didn't get enough sleep, and don't know what they're doing.  Coming from a native Detroiter with a hair-trigger, it's best to just ignore these morons, lest tensions rise, and you wind up spending the morning waiting for the nice officer to let you out of the back of their cruiser.
From all of us here at Wanderson75.net, we want to wish all of our readers a happy Thanksgiving.  Be safe, and enjoy the long weekend of awesome shopping!