Gamer Grub – Food For The Gamer's Soul Or Their Wallet?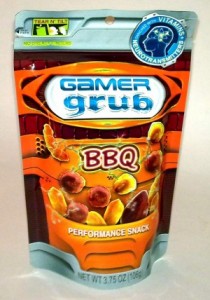 We here at Wanderson75.net love looking at the gimmicky stuff targeted at gamers, and nothing sounds more contrived than a food formulated for the gaming populous.   Some "gamer formulated" foods have been not much more than attempts to introduce new, ambiguously flavored products with shady marketing, while others have outright failed before even hitting the store shelves.  Yet some merchandise has been able to enter the retail scene and pull enough sales to at least be profitable enough for a company to continue making it.
Gamer Grub is one of those snack foods that touts itself as a, "delicious performance snack packed with essential vitamins and neurotransmitters to keep you focused and quick". Sounds promising, doesn't it? So let's take a look at how this snack really performs.
We tore into the BBQ flavored Gamer Grub which carries a medley of smoked almonds, barbeque corn nuts, spicy peanuts, toffee peanuts, and honey-barbeque sesame sticks. It's a flavorful mix of honey and barbeque with just a little bit of bite in the aftertaste.  Almost everyone in my group of guinea pigs that sampled it was impressed, despite being apprehensive when initially told what it was.  Also, while the advertising on the package states that it doesn't leave "greasy fingers", it does leave a residue, so you'll still want to wipe your hands before getting back to the keyboard, unless you like the crunching sound of crumbs beneath the keys while you're in the middle of your marathon death-match.
While the BBQ Gamer Grub has a tasty variety of nuts, it's also a fairly healthy snack.  A 3.75 ounce bag contains 3.5 servings at 150 calories per serving – or for someone (most people) who would be more inclined to eat the entire bag in one sitting, about 525 calories for the whole thing.  While the amount of calories can seem daunting, and the full gram of sodium could be a put off, there is a bit of health to Gamer Grub.  The tasty snack has no Cholesterol or Trans Fat and is a good source of Carbohydrates, Protein, and Vitamins A, C, Niacin and Magnesium.  My wife put it best when she said that this was a prime example of a healthy food being repackaged to be more attractive to those less inclined to eat healthy snacks – much like putting cheese on broccoli, or caramel on an apple.
Now what about these neurotransmitters?  Choline, which is essentially a Vitamin B Supplement, is key for neural and muscle control, and is also a chemical that many scientists say we don't get enough of.  The L-Glutamic Acid is considered to be a "brain food" by many, but I doubt that there are short term boosts – rather, you need a long term supplement to really get anything from it, which you can get from dietary supplements of just diet in general.  While I didn't feel any smarter, or have noticeably faster reflexes, I did have a decent snack to nibble on during my long-term computer or console sessions.  Quite frankly, I would be more inclined to nibble on Gamer Grub than I would a bag of cheesy poofs.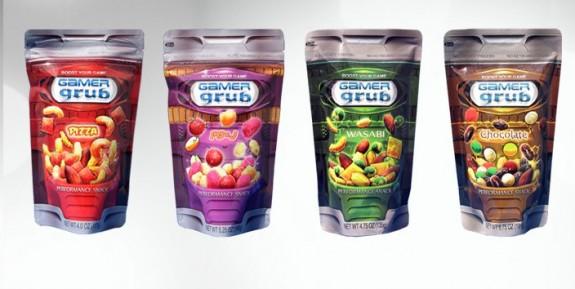 Overall, Gamer Grub is a tasty snack with some fair nutrition behind it.  As long as you're not knocking down four bags a day along with your breakfast, lunch, and dinner, it makes a great supplement to accompany you on your dungeon crawls.  You might want to keep a napkin handy so your keyboard doesn't have to share in the tasty treat, but at least you don't have to deal with the mess that you wind up with after eating a bag of potato chips.
If BBQ isn't your cup of tea, Gamer Grub also has Pizza flavor, PB&J (which is actually healthier than the BBQ), and Smores flavors to entice your palette.
Gamer Grub receives a 4.75/5.