Konami Launches New Metal Gear Solid Website
Coinciding with the launch of the VGA announcement trailer for Metal Gear Rising: Revengance, Konami has launched a new website dedicated to all things Metal Gear Solid.  The website sports interactive features such as the MGS Saga, a timeline of events occuring within the Metal Gear Solid universe, as well as key historical events that take place in the timeframe.  Players can also add their own "MGS Memories", or view and discuss memories that others have posted.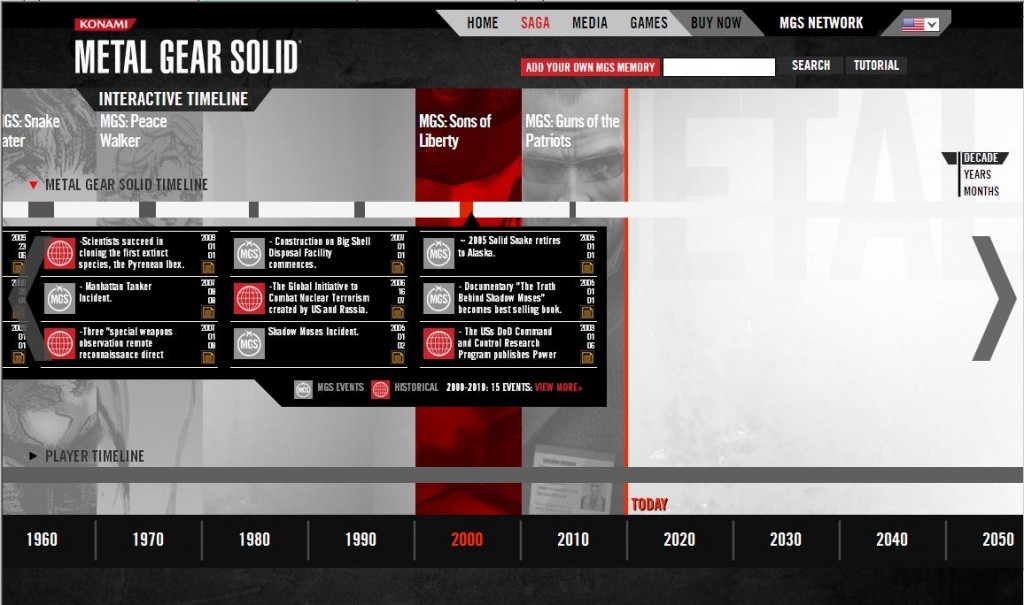 According to Konami, "The METAL GEAR SOLID website has been designed specifically around the fans, providing them the special opportunity of contributing their own content while simultaneously immersing themselves in the rich events, characters, and plotlines of the METAL GEAR SOLID series through two dedicated layers of exploration.
The first layer of exploration is the METAL GEAR SOLID Timeline, an interactive aggregation of the game series' most pivotal events, characters, and storylines spanning over 200 years. The second layer is the Player Timeline. Through the Player timeline, not only will fans be able to follow and interact with the personal METAL GEAR SOLID memories, favorites, and insights of famed producer Hideo Kojima and key members of the Kojima Productions development team, but fans can also add their own mark to the legend of METAL GEAR SOLID by submitting their own nostalgic moments, uploading their own photos and videos, as well as viewing and commenting on other players' memories in order to create a diverse and dynamic community connected by the heritage of the METAL GEAR SOLID storyline."
Hideo Kojima's masterpiece franchise, Metal Gear Solid, has built a solid fan-base over the last 13 years.  It has sold over 7 million copies worldwide, captivating audiences with ground-breaking gameplay, stunning graphics and a deep story that traverses over four decades.
The site has been built in HTML 5 which means mobile users will be able to enjoy the site without those annoying boxes that pop up due to a lack of flash support.  Videos can even be viewed via your mobile browser along with screenshots and more!  For the latest MGS news and information, you'll definitely want to make sure you bookmark www.metalgearsolid.com!