All I Want for Christmas – A Holiday Gamer Guide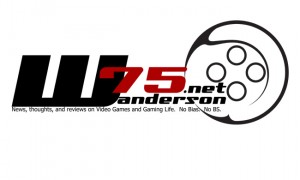 So you're trying to think of what to get your gamer for the holidays, but they've already bought those big ticket titles for the year.  So what do you do?  Sure, you could get them a gift card for their favorite retailer, but what's the fun in that?  You want to see them actually tear into the gift paper that you worked so hard to wrap nice and neat (or in my case, begged my spouse to wrap nice and neat) and see the look on their faces when they get that one thing they least expected, but absolutely love.  So we here at Wanderson75.net have got a few holiday recommendations for you.
BioWare – Mass Effect Goodies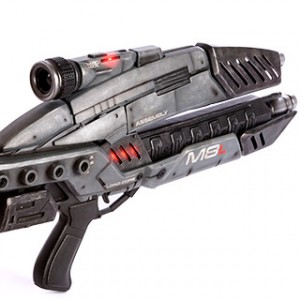 BioWare has some awesome stuff in their online store for the Mass Effect fan with a nice price range from affordable to not-so-affordable.  For the casual collector, you can purchase a downscaled replica of Cerberus' Normandy SR-2 for $35 plus shipping (ships December 19) or pre-order the Alliance variant for the same price (backordered till December 12).  Of course, if you're finding that you have a little extra scratch to spare, you can always pick up the full scale replica of Commander Shepard's M-8 Avenger Assault Rifle for a paltry $650 plus shipping.  While it doesn't ship until first quarter 2012, we're pretty sure your N7 fiend won't mind a few weeks of staring at the front door endlessly while waiting for their goodie to arrive.  Heed their International Shipping note though.  They aren't kidding!
Bungie – Burn Bright, Burn Blue
Bungie.net might have gone dark between making super-hit franchise video games, but they're still more than happy to take your money!  Why not give it to them and feel good about yourself at the same time?  Bungie still has their highly popular "Burn Bright, Burn Blue" tshirts for sale, with the proceeds going to their own Bungie Foundation –  yet another endeavor by a game company to make the lives of sick kids everywhere a little more bearable.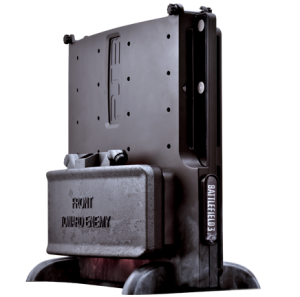 Calibur11 – Vaults for the Xbox 360 and PlayStation 3
We recently ran one of these babies through rigorous testing at our W75 Labs and absolutely love them!  A great piece of flair for your console that comes in a wide variety of licensed and non-licensed models for PlayStation 3 and Xbox 360.  You can purchase them directly from their online store or from local retailers like Best Buy for about $90.
Books!
Played everything there is to play on your 3DS and PSP?  Looking for something to do while you're waiting for the PlayStation Vita to hit the shelves?  Well we have a couple of recommendations for those people that like to read words on paper!
Ready Player One – The year is 2044, the world is in recession, there's an energy crisis, and massive over crowding; a bleak and ugly place.  Like most people, Wade Watts spends all his time in OASIS, a virtual reality where you can be anyone and do whatever you want.  It hosts thousands of worlds that contain everything from schools, entertainment, and businesses.  When OASIS creator James Holliday dies, a contest is announced that whoever beats his puzzles hidden deep within OASIS will win his vast fortune and power.  For years, people have fruitlessly sought his easter eggs with no success.  That is until Wade stumbles across the first one.  And suddenly, the race is on again. In full, and deadly, force.
Halo: Glasslands – Writer Karen Traviss picks up where the legendary Eric Nylund left off with the SPARTAN II – Blue Team on the Onyx Micro Dyson Sphere.  Elsewhere in the galaxy, the Human-Covenant War is finally over, but the seeds of insurrection are being sown as the Arbiter struggles to pick up the pieces and reunite his people.  Taking place after the events of Halo 3 and Halo: Ghosts of Onyx, this is a must have for your collection.
UNCHARTED: Drake's Journal – Inside the Making of UNCHARTED 3: DRAKE'S DECEPTION – You've played the epic sequel to the franchise hits Uncharted: Drake's Fortune and Uncharted 2: Among Thieves.  Now take a closer look behind the scenes in this 128-page documentary.
Step up your game on the Xbox 360 with the Razer Onza Tournament Edition controller.   It's been in use in our office for a little over three months and it still takes a beating and keeps us at the top of our game.  For $50, it's definitely a cut above the rest of the "performance" controllers out there.  With an improved D-pad for fighting game aficionados and adjustable tensioners on the analog sticks for FPS pros, you can't miss with the Onza: TE.
For the Xbox 360 or PlayStation 3 gamer, we highly recommend the KontrolFreeks FPS Freek analog stick attachments.  By raising the height of the analog stick and ergonomic enhancements to the pads on top, the FPS Freeks are guaranteed to take your game to a whole new level.  You can purchase each set seperately, or get all three for $35!
What about the PC?
For those who still enjoy fragging on the good ol' personal computer, we have a could of recommendations for you.  The Steelseries Sensei and Razer DeathAdder mice ranked the highest in our reviews for mice, bringing simplicity and performance to the table for the First Person Shooter in your house.  For the MMO fan, the World of Warcraft Legendary Edition made the grade for our resident WoW expert.  Each one of these mice is available for under $100 each.
Collector's Editions
While they may cost an arm and a leg at launch, many video game Collector's Edition sets drop drastically in price post-release.  Halo: Reach Legendary Edition sells for a mere $55 on Amazon.com, while the Uncharted 3 Collector's Edition costs $99, both down from their original price of $149.99.  Metal Gear Solid HD only seems to keep going up in price at $120 for the Xbox 360 version and $145 for the PS3 version; so you may want to look at picking a copy up for your Fox Hound fanatic before they go the way of the Halo 3 art book.
While soundtracks are a cool idea for your yuletide gamer gift giving, we here at Wanderson75.net have a couple of recommendations that you should consider adding to their library.  For the Nerdcore Hip Hop lover, you simply can't miss MC Frontalot's fifth musical masterpiece, Solved.  This eclectic collection of lyrical limericks covers everything nerd from zombies dealing with their own conscience to a Skynet-like supercomputer who becomes a pacifist.
If your gamer prefers something a bit more biting, there's the Detroit based Nerd Rage band Aggro Or Die!  AoD is a band reminiscent of the heavy metal of the 80's with influences ranging from Black Sabbath to Black Flag and Metallica (before they sold out and turned whiney).  This band's latest CD, Summer Dies, is the perfect definition of Nerd Rage at its finest.
Stay Fashionable
For those gamers looking for a competitive edge while wanting to stay fashionable, Steelseries has the solution for you.  The Steelseries Scope and Desmo glasses reduce glare and fatigue while you're making a marathon gaming run, or just in the office behind an LCD all day.  Three of Wanderson75.net's staff have tested these glasses and have become believers.
Shopping for gamers can be tough, but not impossible.  A few selections from the list above make for a perfect gift without the fear of getting them something that they already have.  So break out your wallets and spread some cheer, gamer style!