Nintendo Reveals 2012 Line-Up
Yesterday, Nintendo revealed their massive lineup for 2012, including several games for all systems. Notable among this list are titles such as Mario Party 9 (Wii), Inazuma Eleven 2 Firestorm/Blizzard (DS), Luigi's Mansion 2 (3DS), Pandora's Tower (Wii), and the highly anticipated Kid Icarus: Uprising (3DS).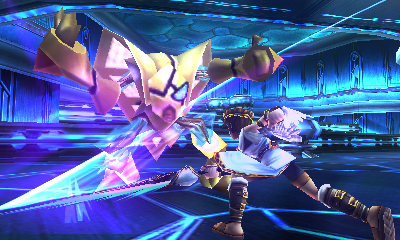 It seems like the next year will be a busy one for Nintendo, with lots of titles for fans to look forward to across all systems. The full list is available below, complete with release dates and publishers.
Nintendo 3DS
Publisher: 2K Play
Game: Nicktoons MLB 3D
Release Date: March
Publisher: Capcom
Game: Resident Evil Revelations
Release Date: February 7
Publisher: Konami
Game: Metal Gear Solid 3D Snake Eater
Release Date: Q1
Publisher: Konami
Game: Pro Evolution Soccer 2012
Release Date: January
Publisher: Namco Bandai
Game: TEKKEN 3D Prime Edition
Release Date: February
Publisher: Games America inc.
Game: Tales of the Abyss
Release Date: February 14
Publisher: Nintendo
Game: Kid Icarus Uprising
Release Date: March 23
Publisher: SEGA of America
Game: Mario & Sonic at the London 2012 Olympic Games
Release Date: Feb. 14
Publisher: SEGA of America
Game: CRUSH 3D
Release Date: Q1
Publisher: SEGA of America
Game: NCIS The Video Game
Release Date: March 6
Publisher: SEGA of America
Game: Horses 3D
Release Date: March 6
Publisher: Ubisoft
Game: Rayman Origins
Release Date: Q1
Publisher: Ubisoft
Game: Funky Barn
Release Date: Q1
Nintendo Wii
Publisher: 2K Sports
Game: MLB 2K12
Release Date: March 6
Publisher: GameMill Entertainment
Game: Country Dance Special Edition
Release Date: Feburary 1
Publisher: Konami
Game: Karaoke Joysound
Release Date: Q1
Publisher: Konami
Game: Rhythm Heaven Fever
Release Date: February 13
Publisher: Nintendo
Game: PokéPark 2: Wonders Beyond
Release Date: February 27
Publisher: Nintendo
Game: Mario Party 9
Release Date: March 11
Nintendo DS Family
Publisher: 2K Sports
Game: MLB 2K12
Release Date: March 6
Publisher: ATLUS
Game: Shin Megami Tensei: Devil Survivor 2
Release Date: February
Publisher: ATLUS
Game: Silverlicious
Release Date: March 20
Publisher: GameMill Entertainment
Game: Xia Xia
Release Date: March 20
Publisher: GameMill Entertainment
Game: Gogo's Crazy Bones
Release Date: March 20
Publisher: GameMill Entertainment
Game: Chess for Kids
Release Date: Februrary 14
Publisher: Mentor Interactive
Game: NARABA: The Labyrinth of Light
Release Date: February 21
Publisher: Mentor Interactive
Game: NARABA: The Mysterious Palace
Release Date: Februrary 21