Developers Embrace the Festive Season with Holiday-Themed Add-ons
It's the season of giving, and many game developers have embraced it by giving their fans holiday-themed add-ons.  The Christmas/winter themes range from simple backgrounds (in-game and menu options) to full-blown makeovers of gameplay and storylines.  Here are some of Wanderson75.net's favourites: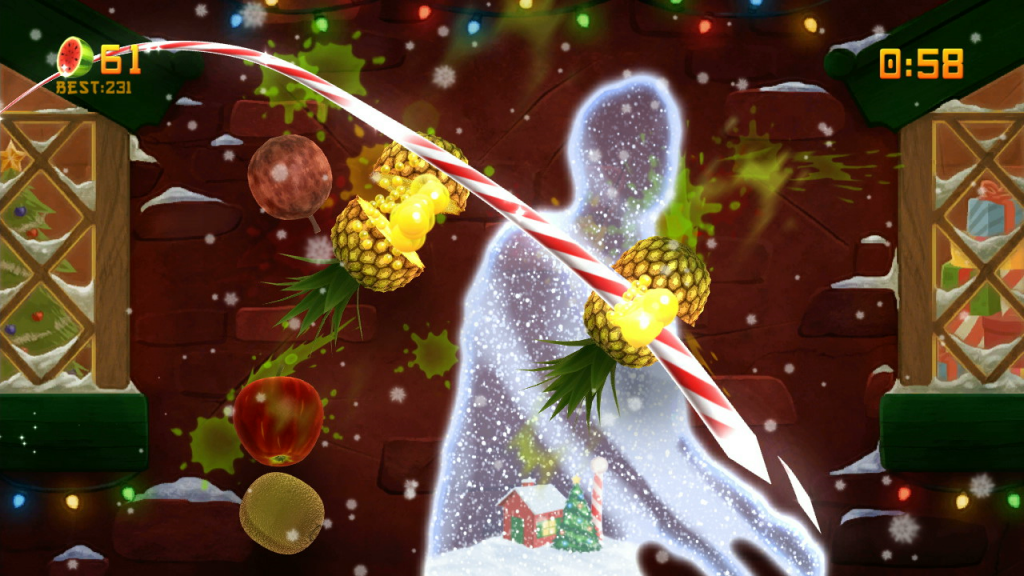 Fruit Ninja Kinect
The developers at Halfbrick decided to spread some Christmas cheer to Fruit Ninja fans by giving them a free DLC.  This Christmas Present can be found in the Xbox Live Marketplace and once downloaded, players are treated to three new add-ons: a Candy Cane Blade, Snowglobe Shadow, and the Santa's Workshop Theme.  Halfbrick certainly didn't hold anything back in developing this fun gift, as Santa's Workshop transforms the entire game and its menu into a holiday feast for the eyes.  The menu options are circled with colourful wreaths, the slicing prompt is Santa's mitten, and the Sensei is dressed in Santa's jacket and hat.  The theme itself provides a backdrop of a red-brick wall and decorated windows, with snowflakes falling lazily down the screen, and even the sound of bells jingling.  There's even a fun change in-game: they've switched out the pomegranate for fruitcake!  Now players get the chance to hack at the seasonal cake and watch it explode – what more could we possibly ask for?
Rocksmith
'Tis the season to be jolly, and Ubisoft also jumped on the bandwagon of gift giving.  For the aspiring guitarists out there, developers at Ubisoft treated the Rocksmith fans to a free Holiday Song Pack on Xbox Live and PlayStation Network.  Now, gamers have a chance to learn "Carol of the Bells" by Seth Chapala, "God Rest Ye Merry Gentlemen" by Brian Adam McCune, and "We Three Kings" by Versus Them.  Download this song pack today and strike a chord in your friends' and family's hearts over the holidays!
Angry Bird Seasons
If you're one of many Angry Bird fanatics out there, you may already know about the Angry Bird Seasons which include themed episodes that revolve around real-world holidays.  Early this December, Rovio Mobile released "Wreck the Halls", the latest Christmas-themed level in Seasons.  Shoot the birds at pigs wearing Santa hats, all done against a snowy backdrop of fluffy white trees and icy mountains. Look out for other holiday items, like presents, gingerbread cookies, candy canes, and more!    "Wreck the Halls" is available for iOS, Android, and Mac.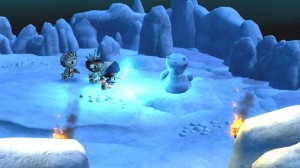 Costume Quest
For those who enjoy Action RPGs, Costume Quest by Doublefine has a holiday-themed pack entitled Grubbins on Ice.  Even though both the game and add-on came out last year on Xbox Live Arcade, we felt the need to give this charming and witty game an honorary mention.  Although Costume Quest revolves around Halloween, Grubbins on Ice turns the game into a Christmas story completely different from the original.  Since this Christmas makeover provides a whole new gameplay experience (and isn't solely restricted to the aesthetics), anyone who hasn't played it should definitely give it a try this holiday season!