Logitech Announces 2012 CES Lineup
Logitech is kicking off CES in style and high definition with two new products which will be showcased at the 2012 International Consumer Electronics Show (CES) in Las Vegas next week; The Logitech HD Pro Webcam C920 and the Logitech Cube mouse.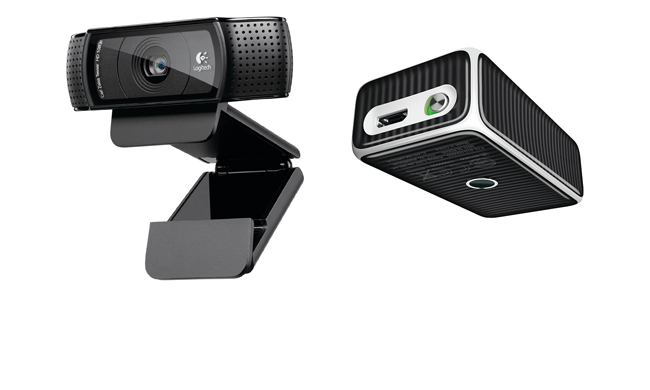 The Logitech HD Pro Webcam C920 captures full 1080p for applications capable of doing so (such as the 5.7 Beta version of Skype), or up to 720p for Windows Live Messenger.  Utilizing H.264 compression, you'll be able to upload 1080p videos or 15 Megapixel photos direct from your laptop or PC direct to YouTube, Facebook or Twitter.  Sporting two microphones, Carl Zeiss optics, and a premium autostep focus partnered together with Logitech's own Fluid Crystal Technology, this webcam promises smoother video with "sharper pictures, richer colors and clearer sound – so your loved ones will literally see and hear more of you – even if you don't have the newest computer on the market."
"People are increasingly relying on video calling to maintain far flung connections," said Todd Walker, brand manager at Logitech. "Whether chatting with friends, family or co-workers, they want to be seen at their best through a sharp, high-quality image. The Logitech HD Pro Webcam C920 can provide just that as the first webcam to offer 1080p video calling, thanks to our collaboration with Skype."
While the unit is being offered to business partners for video conferencing applications, this is a piece of tech that we'd love to see hit the consumer side eventually.  The Logitech HD Pro Webcam will be hitting the market January 2012 at a suggested retail price of $99.99.
For the presenter on the go with a sense of style, Logitech has the Cube.  This compactly designed mouse breaks the bounds of conventional design with a more "cubic" approach.
"With its sleek design, the Logitech Cube catches your eye immediately," said Todd Walker, brand manager at Logitech. "But it doesn't stop with distinctive design. The Cube has just the right set of features, whether you're working through an international flight or making a critical presentation – all in a beautiful tiny package."
According to the press release, "To use the Logitech Cube as a presenter, all you need to do is lift it in the air and moments later it's in presenter mode. Clicking the top of the mouse advances to the next slide, and if you need to go back simply turn the mouse over in your hand and click again. 
And, this pocket-perfect mouse travels light, so whether you're traveling from your desk to the conference room or taking your computer from the living room to the kitchen you can easily carry your mouse with you wherever you go. 
The Logitech Cube also comes with the tiny Logitech Unifying receiver, featuring Logitech Advanced 2.4 GHz connectivity and a small-enough form factor to stay plugged into your computer when you move around. This gives you the reliability of a cord with the convenience of wireless, along with the option to connect up to six compatible devices. Add a keyboard or a number pad, or even another mouse, without the hassle of multiple USB receivers. "
Expected to hit the market in January 2012, the Logitech Cube will carry a $69.99 price point.
Follow Wanderson75.net as we cover the 2012 CES event on-site starting next week!