Microsoft's CES 2012 Keynote – All Good Things
CES has officially begun for 2012!  Yesterday's media day gave us a sneak peek into the future of technology and how it will change life as we know it.  Press conferences, behind the door meetings, and keynotes from industry notables have journalists moving furiously across the city of Las Vegas, taking notes, knocking back energy drinks and posting the latest news of the day.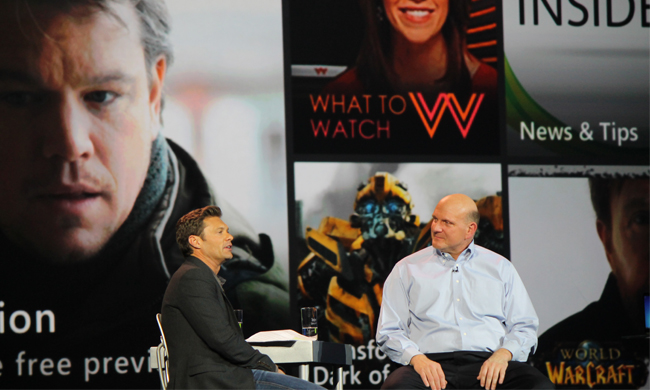 Only yesterday was Microsoft's last hurrah.  Today marked the end of an era as Steve Ballmer took the stage for the last time for the CES Keynote at the Pallazzo Fifth Floor Ballroom in Las Vegas.  For such a momentous occasion, there should have been a line of chorus girls filing out from the side of the stage, doing the can-can and singing a rendition of "So Long, and Thanks for All the Fish".
But instead, we got Ryan Seacrest, and it didn't end there.
Microsoft's reported reason for leaving behind the spotlight of the 45-year-old conference was mainly because of scheduling issues.  The International Consumer Electronics Show's traditional January showing was out of line with Microsoft's project milestones, often leaving them with incomplete or unstable demonstrations to display at the premiere event.  Or, projects would be completed, announced, and shown at other events (or Microsoft's own press conferences) only to leave that "nothing new to see here" feeling when viewing their keynote presentation.  This was much the same feeling with this year's outing.  Application and demonstration of the Metro interface on Windows 8?  Check.  Demonstration of Windows Phone 7 features and functionality?  Done.  Xbox Live with Bing demonstration?  Well, at least they didn't Bing Tom Cruise this time.
Sales numbers were impressive, however.  Over 18 million Kinect units shipped in a year (although sold through to consumers is still a mystery) was a higher number than I expected to hear.  But the one thing that most irked me about this year's keynote was Ryan Seacrest.  The guy just doesn't get it.
Like him or hate him, everyone has to agree that Steve Ballmer has the charisma and charm that it takes to sell you anything under the sun with a smile.  I think that Microsoft's PR folks election to have him sit in a chair this year was more to slow him down to make sure that Seacrest didn't look like a complete idiot than anything else.  Ballmer has that hard sought ability to energize a crowd and get them moving.  He's an exceptionally animated individual ("Developers!  Developers!  Developers!") that can get you moving and chanting the catch-phrase of a product in fifteen minutes.  In 45 minutes, you could be walking out of the building with a mile-wide grin and no idea of what happened, except that it was awesome and you ordered ten thousand of something.  Seacrest, on the other hand, seemed to stick to the teleprompter and looked somewhat lost if Ballmer tried an ad-lib here or there.  While he may have the name recognition worthy of sitting in Ballmer's presence on-stage, he most definitely wasn't of the same caliber.
Now Microsoft did have a couple of excellent announcements worthy of note; primarily (despite what the salespeople at my T-Mobile told me) Microsoft's partners do have some slick new phones on the way out to market.  And even more notably, an interactive Sesame Street game/show is in development in partnership with Sesame Workshop.  This Kinect-centric game teaches children by allowing them to get involved with the goings-on in an episode.  We were treated to a scene where Grover was on his way to deliver some coconuts when he slips and falls.  It is up to our young viewer to assist Grover in picking up the coconuts and throwing them back in the box.  The little girl chosen for the demonstration is told to give one a good toss, and it winds up beaning poor Grover in the noggin.  I almost felt bad for the little blue monster.  But it was something that looks to be very enjoyable, and even featured some augmented reality segments, such as putting you into Elmo's World to interact with different elements.
Of course, the core gamer will likely gripe about the fact that this is yet another example of Microsoft "ditching" their central audience in favor of more market share.  They may be right to an extent, but it's good to see the technology being leveraged to usher in a new generation of gamers with something a bit more original than the shovelware that seems to be getting put out for motion devices.  I say that this is a good thing, as I would rather have my kid playing a game like the interactive Sesame Street than having them play Call of Duty or yet another Mario Party.
All in all, this year's keynote turned out to be much like we've seen in previous years, which is to say, "nothing more to see here folks!"  Perhaps it's time for Microsoft to explore new avenues in order to make the public and press aware of new products.  Perhaps it's time to let them do so at events of their choosing so we get fully polished demos on working hardware, and not beautifully frozen screens on pre-prototype hardware that doesn't even have a case around it and would risk electrocuting the CEO (2011 keynote anyone?).  We've had plenty of laughs with Microsoft's keynote events in the past (many at Microsoft's expense).  So maybe this move will only help to serve the interests of Microsoft and the consumer in the future, and not the CEA's.