CES 2012: Hands On With Razer's Project Fiona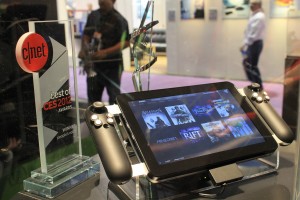 If this year's International Consumer Electronics Show were to be labeled with a theme, it would most definitely be the year of the Tablet.  Major computer product manufacturers threw their hats into the mobile market with these thin and light computing devices.  With widespread adoption of the tablet, all eyes have turned towards the gaming market and whether or not gamers will adopt these devices as well.  Windows 8, obviously geared towards mobile computing, will give us the same gaming options as the current Windows Phone 7.5 with their Xbox Live.  Sony now offers select PSOne games for download to their Android-based S series tablets and Walkman Z series mobile devices.  They have even updated their tablet firmware to allow a PlayStation 3 controller to be paired to their devices.
One of the biggest names in gaming products, Razer, is considering throwing in their bid in the mobile device market as well.  Their long time experience in the gaming industry and input they have received from professional gamers and the community at large have given birth to their latest creation, Project Fiona.  Fiona is a device like no other.  Featuring much of the same technology as their laptop line, this device sports an Intel Core i7 CPU instead of an ARM processor, and sports mobile graphics far beyond the capabilities of most high performance tablets on the market.  Taking advantage of these technologies is no small feat, and certain compromises have to be made.  For example, Fiona is a bit thicker than most tablets at almost a full inch. This is to allow for the additional space needed for cooling considerations and other hardware.
While Fiona may be huskier, the device is exceptionally light.  Razer took their time in choosing the right materials to ensure that the device wouldn't be too cumbersome to hold on to for long periods of time.  Another difference that you'll see immediately is the two "handles" on the sides of the device, each with an analog stick and four buttons on the top, as well as a trigger and shoulder button.  These handles are comfortable to grasp, with the analog sticks in just the right spot for your thumbs; however, the buttons themselves require a bit of contorting in order to reach them easily.  This is something that Razer has taken note of and says that they are continuing to refine the design of the device as they gain feedback from media and professional gamers.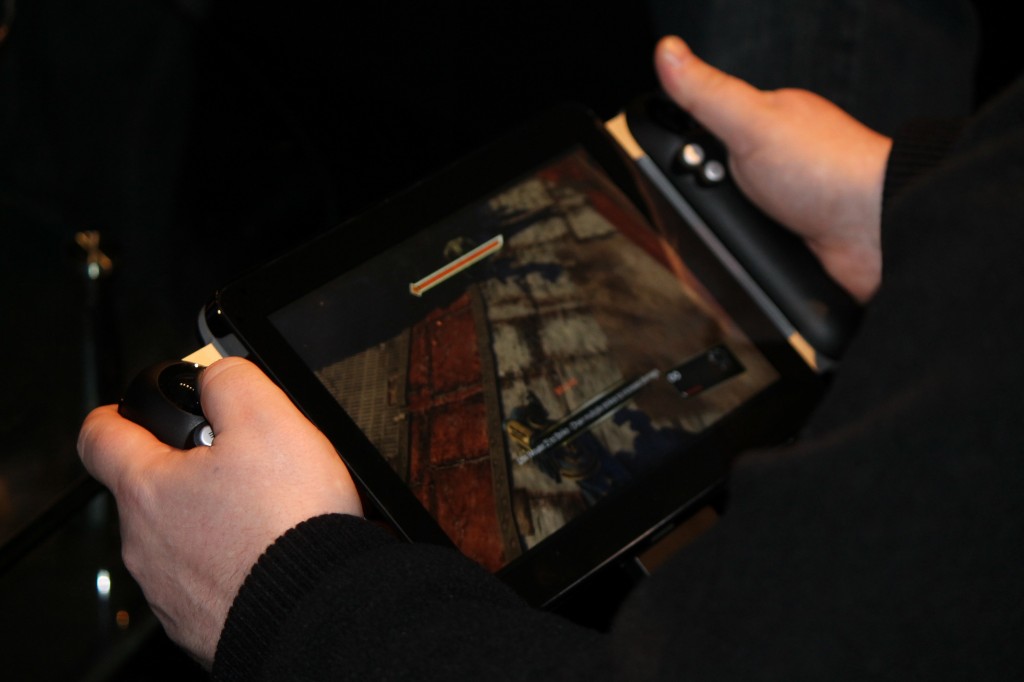 The control handles address the biggest complaint in mobile gaming, which is the use of onscreen controls to take the place of traditional tactile directional pads, analog sticks, and buttons.  This also allows you the use of the screen for touch-based controls such as selecting objects by tapping on them, zooming in or out of the playing field by pinching the screen, and having custom buttons or menu selections displayed without the display becoming too convoluted.  This could allow another level of depth in control that could be of benefit to the RTS gamer.
For my hands-on time, I was given a tablet that was running Warhammer 40K: Space Marine.  Using the analog controls on the handles, I was quickly accumulating piles of dead Orcs at my feet as wave upon wave was unleashed on me.  Use of the analog sticks and triggers was a natural feeling and required absolutely no time to get used to.  It was only when I attempted to perform a special move or reload my weapon using the buttons located below the analog stick that I ran into issues.  While it wasn't an impossible task, it was notably less comfortable and intuitive than your standard controller.  With any luck, this will be something that we'll see resolved in the next iteration of hardware to be shown off (hopefully) at this year's Electronic Entertainment Expo in June.
The device ran on top of Windows 7 Mobile (and will hopefully be running Windows 8 by the time the product is ready for its debut) and used x64 architecture which means that most PC games should run on the device without any problems.  Project Fiona is truly a mobile platform with gamers in mind and shows enormous promise.  I can personally guarantee that this goodie will be landing in my collection as soon as it goes to retail.