Spacetime Studios Announces Vampire MMO for Android, iOS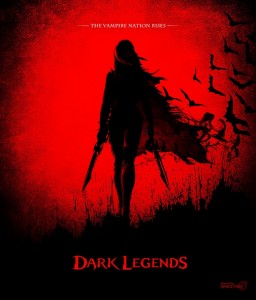 Spacetime Studios, the creators of Pocket Legends and Star Legends has announced their latest MMO coming in the first quarter of 2012; Dark Legends!  According to their press release, Dark Legends combines "casual, strategic advancement content with their award winning real-time 3D multiplayer system to create a blend of gameplay never before seen."
"With each entry to the Legends franchise we raise the bar for the pick-up-and-play MMO space," said Gary Gattis, CEO, Spacetime Studios. "The changes between Pocket Legends and Star Legends were significant, but Dark Legends is a quantum leap forward in interactive storytelling.  Live the dark fantasy and play anywhere, anytime, anyone!"
Dark Legends story opens with your character raised and directed by the vampire that sired you.  Until recently, the existence of vampires was kept secret from humanity; who upon finding out, unite to hunt every single one of your kind into extinction.
"Fans of the popular Legends franchise, Pocket Legends and Star Legends, will discover a gameplay evolution in Dark Legends that draws them even deeper into the experience. The combat system delivers fast paced, action oriented gameplay that includes new mechanics such as charge attacks and the ability to drain enemies. A wide breadth of solo and multiplayer content will also be available. 
The most significant change is a much deeper focus on narrative. In addition to story communicated during the 3D multiplayer missions, players will periodically be given the option to complete quick action missions with a single tap. These missions use brief cut scenes to create an interactive storybook, where players experience the life of a vampire up-close and personal.  
The company's goal for Dark Legends is to combine casual, strategic advancement content with their award winning real-time 3D multiplayer system to create a blend of gameplay never before seen."
The premise of Dark Legends has us intrigued.  Be sure to keep an eye out for it to land on Android, iOS, and Chrome in Q1 2012!