Blue Submarine, Animatrix Artist Tapped For Sine Mora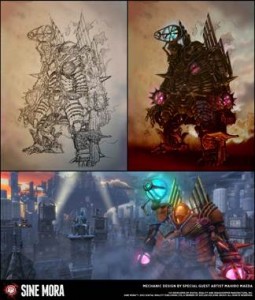 Famed Japanese anime artist, Mahiro Maeda has been pulled in to create the concept art for Digital Reality and Grasshopper Manufacture's upcoming dieselpunk shooter, Sine Mora.  Known for his art in animes such as Blue Submarine, Gankutsuou: The Count of Monte Cristo, and The Second Renaisance Parts I and II (Animatrix), Mr. Maeda's concepts will be brought to life in the form of the game's level bosses.
Exclusive to the Xbox 360, this side-scrolling shooter features gorgeous HD graphics and epic enemy battles as you race against the clock.  Kills earn you time bonuses to keep progressing throughout the various levels in Sine Mora, keeping the pressure on at all times lest the clock runs out!  Featuring over "60 combinations of planes, characters and manipulation devices to complete every beautifully-crafted stage with scaling difficulty", this game promises to be one of the biggest titles to hit Xbox Live in 2012.
Mahiro Maedo isn't the only big name from Japan that's working with Digital Reality and Grasshopper Manufacture on this title; Akira Yamaoka, known best for his works on the Silent Hill franchise (composing both for the video games, as well as the movies), will be providing the soundtrack that will set the tone for this adventure! 
If you haven't yet checked out the trailer for Sine Mora, you might want to right now.