Disgaea 3: Absence of Detention for PS Vita – New Trailer Revealed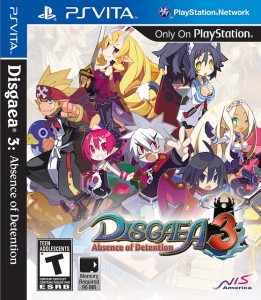 Today, NIS America released a new trailer on the upcoming RPG for the PlayStation Vita, Disgaea 3: Absence of Detention on the PlayStation Blog.  The new trailer details features specific to the Vita port including new character stories, new systems, new attack levels, new bosses, and touch pad support!  Also included in D3:AoD will be all of the downloadable content that was made available for the PlayStation 3 version, all on one card.
New features for the PlayStation Vita will include "Honor Quotient", which leverages among other things, the PS Vita's GPS functionality to track how far you've travelled while playing Disgaea 3.  A higher Honor Quotient means that you'll gain more experience points, mana points, get discounts at shops and more.  Touchpad support will also be integrated into the game to allow you to change the viewing angle to make it easier to see where you're going and who you're battling.
Disgaea 3: Absence of Detention for the PlayStation Vita will also feature two new characters, Rutile and Stella.  According to the post: "Rutile is half-Nekomata, half-human. She was raised in the Human World, so she doesn't really know much about the Netherworld. She enters Evil Academy as a transfer student. The other character is Stella, who is the student body president and daughter of the dean of the rival school, Death Institute, Majin Academy. She is a snobby rich girl, but she also loves playing tricks on others. She loves elegance, and believes that everything she does is "elegant." …We'll see about that!"
Disgaea 3: Absence of Detention will be releasing in April 2012 for the PlayStation Vita.  Keep an eye out for our review as soon as it launches!  In the meantime, check out NIS America's awesome new trailer highlighting the Vita exclusive features below.