Ubisoft Announces Rocksmith Hot Pick Contest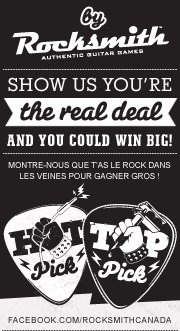 You've played every Guitar Hero and Rock Band song and mastered every one of them, you've even earned gold on every lesson and song there is to learn on Rocksmith.  So you think you're a pretty good player?  Think you can beat the best?  Here's your chance to prove it!  Ubisoft Canada recently announced the Rocksmith Hot Pick Contest. 
Ubisoft Canada has teamed up with Megadeth's very own lead guitarist, Chris Broderick to bring you a challenge unlike any other; beat Chris's score on one of three Rocksmith songs and you could win a chance to win tickets to attend on of Megadeth's Gigantour concerts, or better yet, battle Mr. Broderick himself in concert and walk off with his guitar!  If you're in Canada and think you have what it takes, then you need to head over here.  Master one of the three songs listed (Symphony of Destruction, Public Enemy No. 1 or Hanger 18), and tape yourself playing with your best score.  Post it up on YouTube, enter your submission and cross your fingers.
"Rocksmith is a genuinely authentic guitar experience. There is no other game that lets anyone, from amateurs to skilled rockers, be a living room legend on a real guitar," said Adam Partington, Director of Marketing and Communications, Ubisoft Canada. "And now the Hot Pick Contest gives our fans the opportunity to prove their rock cred and interact with Megadeth, one of the best names in metal music."