Skylanders Giants Officially Announced
The rumors are true!  The highly popular toy/video game line from Activision, Skylanders: Spyro's Adventure will be receiving a sequel!  According to the press release from Activision: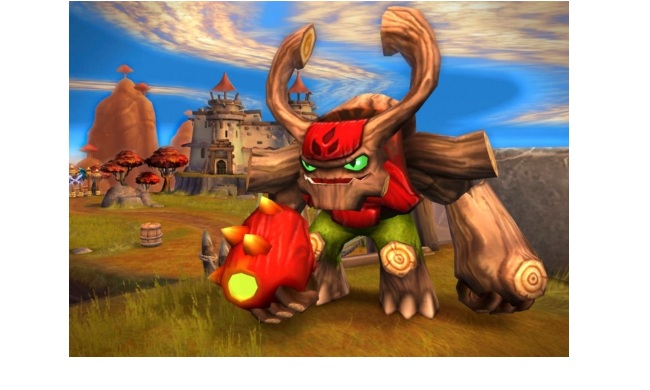 "Skylanders Giants builds upon the breakthrough fundamentals of the first game—merging the physical and virtual realms with an innovative line of cross-platform toy figures that have "brains," which players everywhere can magically bring to life in the world of Skylands.  This next installment of the franchise features a variety of new characters, new challenges, a thrilling new story-driven adventure, and advanced integration across console, handheld, mobile and online:
Going Big: Skylanders Giants introduces eight new highly collectible figures that are more than twice the size of the main skylanders cast in both physical and virtual form. Their in-game powers and abilities reflect their colossal scale.
Bright Lights: Helping to further the real world magic of bringing toys to life, Skylanders Giants includes a set of characters that feature spectacular new light technology integrated into the toys, allowing the figure to light up when near or on the Portal of Power™. These characters have additional in-game benefits as well.  Batteries are not required.
Brand New Skylanders: Eight new regular sized skylanders, each with their own unique powers, abilities, and personality, join the adventure alongside the Giants.
Forward Compatibility: Every beloved character from Skylanders Spyro's Adventure is 100% compatible with Skylanders Giants, leveled-up stats and customizations intact.
Wider Worlds: Portal Masters will see all new arenas and more gameplay options in Battle Mode for exciting head-to-head play, as well as enhanced Elemental Zones, new Hero Challenges, and other features that encourage players to collect and level up every character.
Skylanders Giants also features closer integration with Skylanders Spyro's UniverseTM, the large online world that allows Portal Masters around the world to greatly expand their Skylanders experience. "
Skylanders: Spyro's Adventure has been a phenominal hit with children and adults alike with their unique concept.  Copies have been flying off of the store shelves, so it's no wonder that a sequel would be announced so soon after the initial games release. 
"While it was still in development, we recognized the potential that Skylanders had to connect with our customers due to its unique merging of physical and digital play," said Jerry Storch, Chairman and CEO, Toys"R"Us, Inc. "The game was an enormous success last holiday shopping season, and the toys seem to evaporate as soon as they arrive on our store shelves.  We're excited to continue our enthusiastic support for Skylanders with a comprehensive, global marketing program to introduce Giants to our customers."
No release date has been announced yet, but we'll be monitoring for more news as it breaks.  Stay tuned at Wanderson75.net for more info!