Resistance: Burning Skies For PS Vita Dated – Boxart Released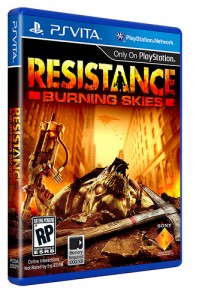 Sony announced yesterday via their Vita Live Chat that Resistance: Burning Skies for the PlayStation Vita will be in stores on May 29th.
This will be the first dual-analog first person shooter to hit the new console.  All eyes will be on this game to see exactly how well the handheld will handle an FPS. The game has been built from the ground up to take advantage of the PlayStation Vita's control scheme including the use of the front and rear touchpads.
The PlayStation Blog also put up the boxart for all to see.  On it, a dead Chimera lies in the rubble of New York City with the protagonist's axe lying in front of it.  Per the PlayStation Blog, the story is set "… in a tale of survival during the August 1951 Chimeran invasion of the East Coast, you take control of Tom Riley, an everyday firefighter from New Jersey who is thrown headfirst into the teeth of the Chimeran war machine, forcing him to redefine his notions of duty and heroism."
Resistance: Burning Skies is available for pre-order at Gamestop and other retailers.  Follow us here at Wanderson75.net for more news as it becomes available.