Nintendo Announces Pokémon Black and White 2
This morning Nintendo announced the upcoming arrival of Pokémon Black 2 and Pokémon White 2 coming to the Nintendo DS family of systems this Fall 2012 to stores in North America.  As part of a sneak peak into this soon to be hit title, Nintendo is showing off new character art of Black Kyurem and White Kyurem which can be seen here.  The game will be playable in 2D on the Nintendo 3DS.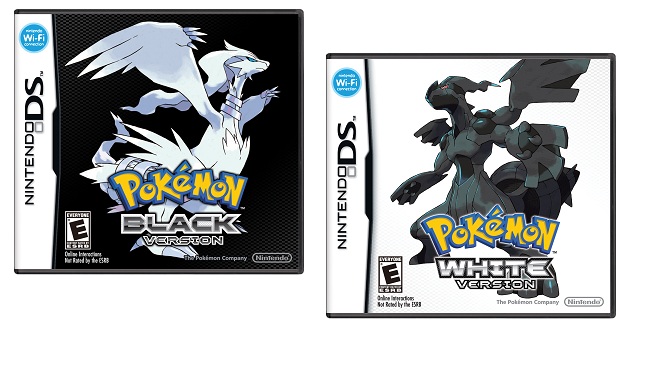 In 2011 Pokémon Black and White became the fastest selling Nintendo DS titles, moving over 5 million units in just 3 months.  Stay tuned as we'll be keeping our ears (and Pokéballs) handy for more news on Pokémon Black and White 2!
About Nintendo
The worldwide pioneer in the creation of interactive entertainment, Nintendo Co., Ltd., of Kyoto, Japan, manufactures and markets hardware and software for its Wii™ home console, Nintendo 3DS™ and Nintendo DS™ family of portable systems. Since 1983, when it launched the Nintendo Entertainment System™, Nintendo has sold more than 3.9 billion video games and more than 620 million hardware units globally, including the current-generation Wii, Nintendo 3DS, Nintendo DS, Nintendo DSi™, and Nintendo DSi XL™, as well as the Game Boy™, Game Boy Advance, Super NES™, Nintendo 64™, and Nintendo GameCube™ systems. It has also created industry icons that have become well-known household names, such as Mario™, Donkey Kong™, Metroid™, Zelda™, and Pokémon™. A wholly owned subsidiary, Nintendo of America Inc., based in Redmond, Wash., serves as headquarters for Nintendo's operations in the Western Hemisphere. For more information about Nintendo, please visit the company's website at http://www.nintendo.com.
About Pokémon
The Pokémon Company International, a subsidiary of The Pokémon Company in Japan, manages the property outside of Asia and is responsible for brand management, licensing, marketing, the Pokémon Trading Card Game, the animated TV series, home entertainment, and the official Pokémon website. Pokémon was launched in Japan in 1996 and today is one of the most popular children's entertainment properties in the world. For more information, visit www.pokemon.com.