Robert Griffin III To Be NCAA Football 13 Cover Athlete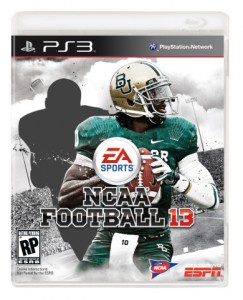 Electronic Arts announced today that Robert Griffin III will be gracing the cover of NCAA Football 13 when it releases this July 10.  However, who will be accompanying Mr. Griffin is still up for grabs and will be voted on by fans.
"Beginning March 12, fans can log on to the EA SPORTS NCAA Football Facebook page to vote for one of eight Heisman Trophy winners to accompany Griffin III on the cover of NCAA Football 13. The candidates include former University of Southern California running back Marcus Allen, former Boston College quarterback Doug Flutie, former The Ohio State University running back Eddie George, former The University of Michigan wide receiver Desmond Howard, former Oklahoma State University running back Barry Sanders, former University of Georgia running back Herschel Walker, former Florida State University quarterback Charlie Ward and former University of Houston quarterback Andre Ware."
Griffin III is the former Baylor University Quarterback and will be forgoing his final year at the uni to enter into the 2012 NFL Draft which will be held at Radio City Music Hall on April 26th through the 28th of this year.  A big congratulations to RG3, and good luck to the finalists above.  Now get voting!