Sega Bringing Game Gear Classics To Nintendo 3DS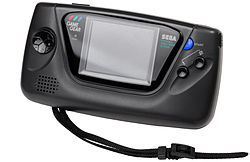 Nintendo announced today that Sega will be bringing a number of classics from the Game Gear era to the Nintendo eShop for 3DS owners to enjoy!  Titles such as Sonic the Hedgehog: Triple Trouble,  Shinobi and Dragon Crystal will make their return to the portable arena this March 15th. 
For those of you that are unfamiliar with the Game Gear portable console, it was Sega's first portable console and the third ever color console to hit the market in 1991.  The handheld did its fair share of mass murdering batteries, requiring six AA's for just four hours of gameplay.  At least the Vita is rechargeable, right?