Nintendo – Hundreds of AR Cards For Kid Icarus: Uprising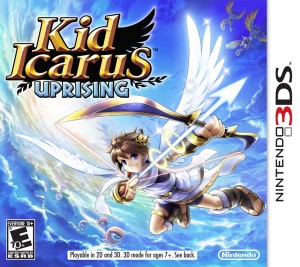 Nintendo today announced details on how to discover and collect hundreds of AR (Augmented Reality) cards to collect and use in the upcoming Kid Icarus: Uprising, the first Kid Icarus game to hit retail markets since 1991.
The press release states:
"The cards feature characters, enemies, bosses, weapons and items that appear in Kid Icarus: Uprising. The game recognizes these specially designed AR Cards when viewed using the built-in camera of the Nintendo 3DS. Viewing an AR Card with the game also unlocks the AR Card's corresponding Idol, which reveals additional information about that card. Players can even snap photos when the AR Card characters come to life and then view them within Nintendo 3DS Camera."
Every copy of Kid Icarus: Uprising will contain three random AR cards out of a possible set of 20 to get the player started.  Furthermore, fans can get their hands on additional cards by picking up the April issues of Game Informer (for the Power of Flight card) from Gamestop and EB Games, Best Buy's @Gamer (Pit, Pandora – The Goddess of Calamity and Samurai Blade), and Nintendo Power (Poseidon, Thanatos – God of Death and Medusa).
If you happen to be attending PAX East in Boston or WonderCon in Los Angeles, you'll be able to pick up even more cards at those events.  Nintendo will be giving away packs of randomly packaged cards while supplies last.
But you don't have to wait!  If you head over to Nintendo's Kid Icarus site, you can also sign with your Nintendo Club account in order to grab the Great Reaper, Palutena and Drill Arm cards for free!
Kid Icarus: Uprising hits retail stores this March 23.