Avengers Assemble! Zen Studios Announces Marvel Pinball: Avengers Chronicles
Zen Studios and Marvel Entertainment this morning announced that this spring, the Avengers will be assembling on pinball tables everywhere you can find an Xbox 360, PlayStation 3 or PlayStation Vita.  Titled Marvel Pinball: Avengers Chronicles, this downloadable pack will contain four new tables in celebration of the upcoming film: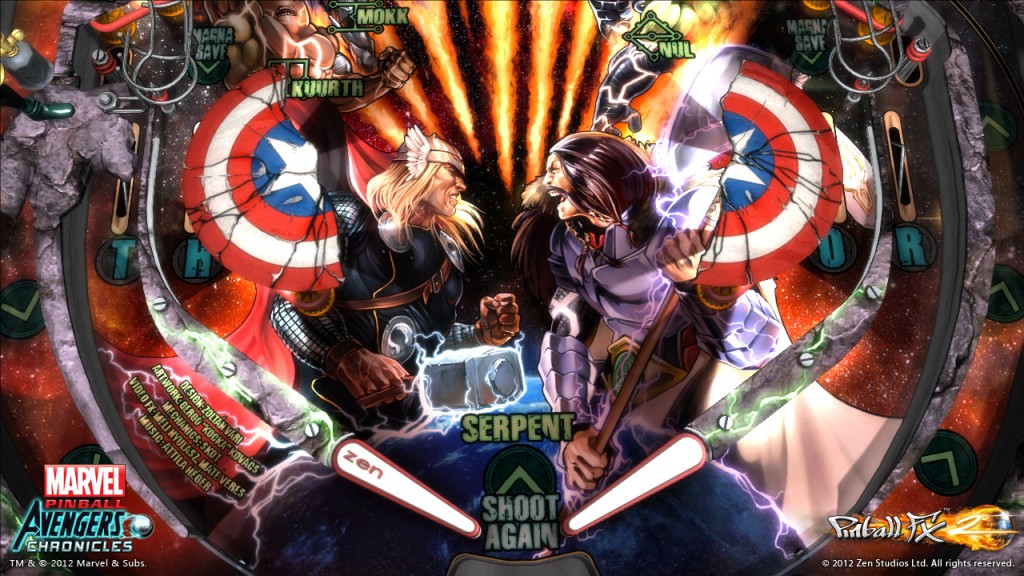 Marvel's The Avengers table reflects the events of this summer's highly anticipated blockbuster, pitting all six Avengers against Loki's invasion of Earth. Nick Fury commands the team of Iron Man, Captain America, Thor, Hulk, Black Widow and Hawkeye, each character represented by a customized ball that echoes his or her own appearance and power set.
Hulk Smash! After the Hulk's banishment to outer space, he returns to Manhattan to seek revenge against the Illuminati and wage war against the X-Men, Iron Man, the Fantastic Four and Doctor Strange in World War Hulk. 
The Silver Surfer and Adam Warlock enlist Earth's Mightiest Heroes – including you – to recover the six Infinity Gems from Thanos and save the universe in The Infinity Gauntlet. The intense pinball atmosphere heightens as each Infinity Gem produces a special effect on the table, such as literally flipping the table upside down with the Reality Gem.
The Avengers must defeat Odin's long-banished brother, the Serpent, and free the world from the grip of chaos in Fear Itself. Featuring a table design unlike any to date, Fear Itself utilizes magnetic energy in ways no one has ever before experienced on a pinball table.
"The collaboration between Zen Studios and Marvel Entertainment is a brilliant display of passion, excitement and energy. Avengers Chronicles represents a historic moment in videogame pinball," said Mel Kirk, Zen Studios' Vice President of Marketing and Public Relations.
Keep on the lookout for Marvel Pinball: Avengers Chronicles when it releases this spring on Xbox Live Arcade, PlayStation Network, and as a standalone download for the PlayStation Vita.  Stay tuned here at Wanderson75.net for our full review!