ATLUS ReVITAlized With Huge Sale For PlayStation Vita
ATLUS, publisher of awesome games such as the Persona series, Dept Heaven, and many others is finally bringing their wares to the PlayStation Vita at dramatically reduced prices as announced on the Sony PlayStation Blog just this morning!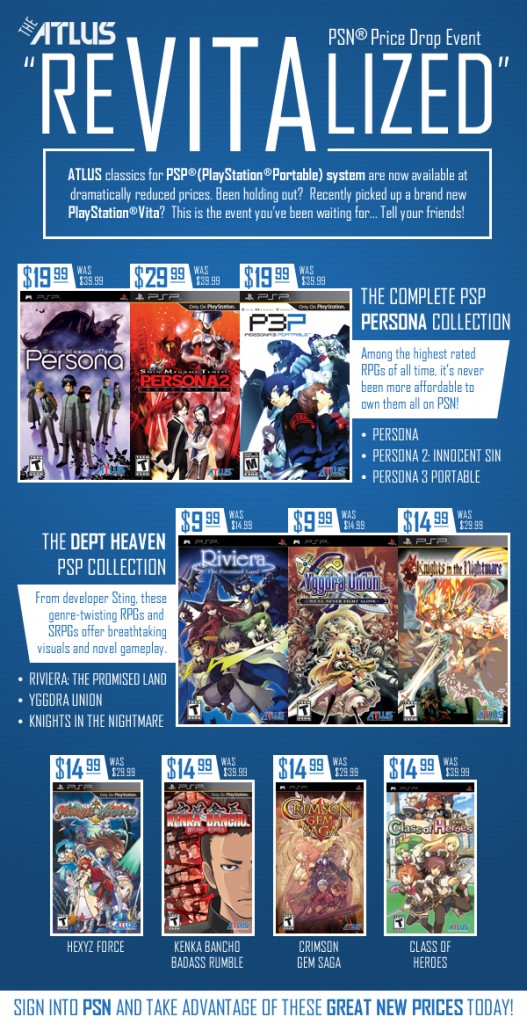 Fans of the Persona series can now download Persona, Persona 2: Innocent Sin, and Persona 3 Portable from the Vita PlayStation Network at the cost of $19.99, $29.99, and $19.99 respectively.  The Persona series is amongst the greatest Japanese RPGs of all time and a personal favorite with our RPG staff.
Dept Heaven fans can also pick up Riviera: The Promised Land and Yggora Union for $9.99 and Knights in the Nightmare for $14.99.  Other fan favorite games Hexyz Force, Kenka Bancho: Badass Rumble, Crimson Gem Saga, and Class of Heroes can be downloaded for $14.99 a piece.
If you're a long time fan, or are just looking for a good game to play on the cheap, now is your chance!