Drink Brisk Tea – Unlock Star Wars Kinect Content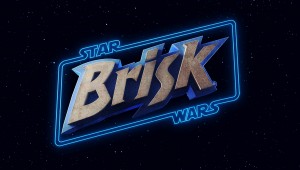 Brisk Tea announced today that, in partnership with LucasArts, 1-Liter bottles of the super sugary drink will have a Microsoft Tag that can be read by Kinect to download exclusive content for Star Wars Kinect.
According to the presser,
The specialM-Tag on the label will allow gamers to unlock an exclusive Anakin Podracerexperience in the new "Kinect™ Star Wars™" game, available now, along with the Limited Edition"Kinect Star Wars" Xbox 360 bundle.

The new bottle will feature a gold cap and artist graphics of iconic Star Wars characters R2-D2 and C-3PO. It is available only at participating 7-Eleven stores for an exclusive launch period in April and wherever one-liter Brisk is sold throughout May and June. In order to activate the M-Tag and race with Anakin's Podracer,fans can simply hold the new bottle up to the Kinect sensor after loading the "KinectStar Wars" game and follow the instructions on the menu.
"To expand upon our successful partnership with Star Wars, Brisk will offer artist-designed packaging that features innovative on-pack technology todeliver exclusive content to a passionate fan base," said Eric Fuller, Brand Director, Brisk Iced Tea. "We're excited to creatively extend our Star Wars campaign to promote the release of 'Kinect Star Wars' and to be able to provide an exclusive immersive gaming experience for Brisk consumersand Star Wars fans."
"It's clear that our fans have embraced Brisk's authentic yet unique take on Star Wars,"says Kayleen Walters, Senior Director, Marketing, Lucasfilm. "We look forward to another successful collaboration with Brisk featuring fan-favorite characters."
Well…I guess Extra Credits wasn't far off the mark.