Tempting the Fates of Time: Tempest Book Report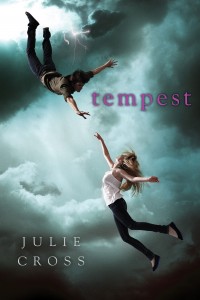 Jackson Meyer has led a relatively normal life up until recently.  He's got a job, he goes to school, he has a girlfriend… and then he discovers that he can travel back in time.  Unlike most time travel stories, this seems to be more of a glancing back in time, interacting with people, yet never able to change the course of events.  At least that seemed to be the case until he and his girlfriend are attacked one night and she is fatally shot.  In a flash of panic, Jackson manages to jump away from the scene and finds himself trapped two years earlier and unable to leave.
Stuck in the life of his 17-year-old self, Jackson starts testing his limits of time travel with the hope of discovering a way to return to his proper time period.  While trapped in the past, however, he starts discovering secrets – both about his family and his powers. Were the people who killed his girlfriend Holly still after him?  Did that mean there were more time travelers like him yet who were able to properly navigate time unlike his limited visits which couldn't change history?
Julie Cross tells the interesting story of a young man who has to go through a lot of self discovery and is given the rare opportunity for second chances.  Jackson will have to make difficult choices between what he thinks is right and what he fears could be.  With two different factions of the time travel mystery vying for his support, which one is telling more of the truth and which is less likely to bring about the destruction of time itself?
Although there are a few plot holes and I'm not 100% in agreement with how the time travel mechanics work, I can't argue with the entertaining story that will captivate readers – not just of the young adult audience the book is geared towards.  It's currently available from St. Martin's Griffin on multiple formats, including electronic, and audio.
Wanderson 75 gives Tempest a  4.5/5.0