Majesco Announces Double Dragon: Neon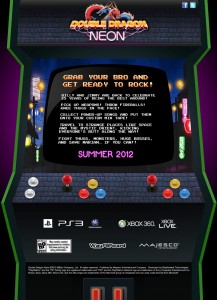 Majesco has announced that the original bros Billy and Jimmy Lee return to the console in Double Dragon: Neon for Xbox Live Arcade and PlayStation Network this summer!
Publisher Majesco and developer Wayforward (A Boy and His Blob, Bloodrayne: Betrayal) are bringing the highly popular 80's brawler to PSN and XBLA.  According to the presser released by Majesco, Double Dragon: Neon promises to be a "face-melting 80's tour de force! Featuring bodacious characters, gnarly combat, and a retro aesthetic, it's pure over-the-top baditude…to the max!"
"Double Dragon: Neon is far from a standard retro remake," said Sean Velasco, Director, WayForward. "It's WayForward's love letter to the decade that spawned the franchise – the music, the style, and culture of the 80's pulse through the nucleus of Double Dragon: Neon. But don't think this is a simple graphical facelift; with our innovative 'mix tape' level up system and power-up high-fives, we pushed it to the limit!"
In Double Dragon: Neon, players will once again take on the Black Dragon clan and their newest leader, Skullmageddon.  Featuring drop-in, drop-out online co-op, you'll be able to play through the game with your online "bros" as you take to the streets and deliver some punishment to these bad dudes.  But if you can't wait till this summer to play, you can have your chance to get some hands on time at PAX East this weekend!
Double Dragon: Neon marks the first time in almost 18 years that an original game has been made for the franchise.