Book Report – Gamers At Work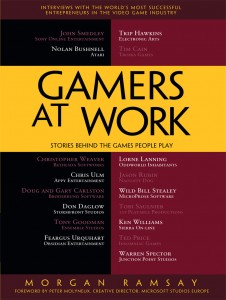 The videogames industry pulled in over $25 billion in 2011 and has crept into the everyday lives of not only hardcore enthusiasts, but casual users as well.  With home consoles, portable devices and mobile smartphones, every person is touched to some degree or another by this money-making juggernaut.
But who are the people behind the industry?  Who are these visionaries who have pioneered the technologies entertaining us day to day?  Morgan Ramsay has met with a number of these notables and compiled the interviews with them in his book, Gamers at Work: Stories Behind the Games People Play.
Featuring interviews with some of the most prolific names in the gaming industry such as Nolan Bushnell (Atari), Trip Hawkins (Electronic Arts, 3DO Company), Lorne Lanning (Oddworld Inhabitants) and more, Gamers at Work delivers an insight to the history and innovations that have made videogames such an enormous success today.
Ramsey does a good job of not only getting industry leaders to talk about their struggles in the days before the videogame market really became an industry, but also getting them to talk about the failures as well as the accomplishments.  Hawkins' take on the failure of the 3DO, for example, was quite insightful and brought a new perspective to how the market worked, and what really caused the product's demise.  It's the ability to get these industry greats to let their guards down and answer the tough questions that makes Gamers at Work such an enjoyable read.
From the perspective of being an enthusiast of not only videogames, but the industry itself, it's quite fascinating to read about how these would-be juggernauts started up in the days long gone by.  Stories range from moving their daughters into a single room to facilitate space for a lab in their house to looking for venture capital, the struggles of making payroll and the human investment (and sacrifice) involved in getting a game company off of the ground.  This book is about the business of gaming and the evolution from the 1970's startups to the modern-day, multi-billion dollar giants we know now.  For any enthusiast of the industry, this is most certainly a book to read.
Gamers at Work: Stories Behind the Games People Play receives a 5.0/5.0.