Square Enix Announces Hitman: Absolution – Professional Edition
Square Enix today unveiled the limited Hitman: Absolution Professional Edition available now to pre-order online or at your local retailer.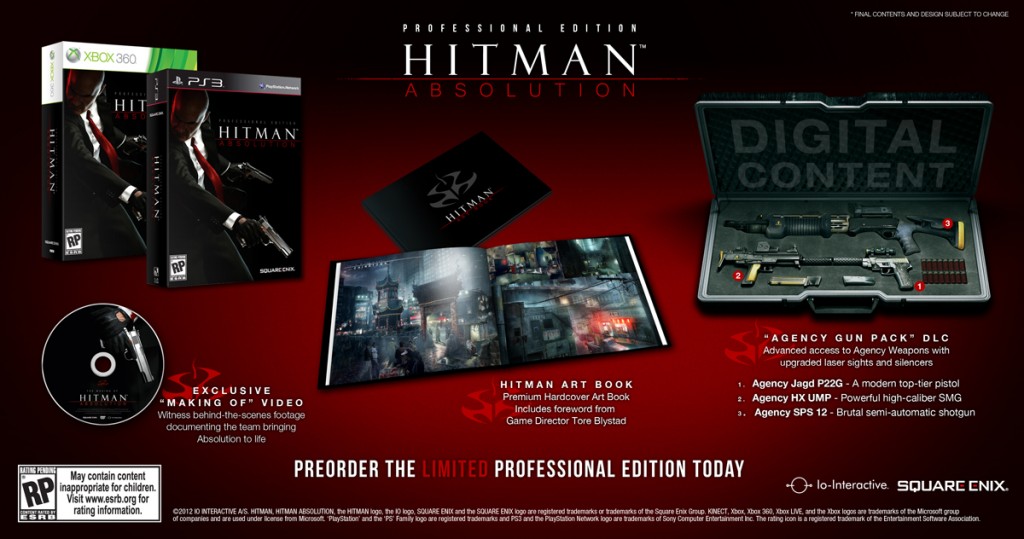 Pre-ordering early birds reserving the Professional Edition at retailers Amazon, Best Buy, Gamestop and Walmart will receive the game packaged in a clamshell box with a hardcover art book with a foreward from Game Director Tore Blystad, a making of video disc, as well as advanced access to "in-game Agency weapons".  The weapons included are the Jagd P22G silenced pistol, the HX UMP submachine gun, and the SPS 12 semi-automatic shotgun.
Also, there are a number of retailer exclusive weapons.  They are:
Amazon – Bartoli Custom Pistol – An engineered precision weapon, complete with sight and silencer.
Best Buy – Bronson 1928M SMG – A classic submachine gun with high fire rate and deadly stopping power.
Gamestop – Sniper Rifle: Agency Kazo TRG – The modern agency rifle with upgradable scope and silencer.
Walmart – An accurate, reliable stealth weapon with a built-in silencer.
Square also states that additional pre-order items will be announced in May.  Stay tuned at Wanderson75.net for more details!