Skype Comes To The PlayStation Vita – Enroute To Xbox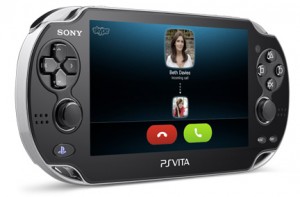 Skype, the internet-based video and audio calling service will be available today for download in the PlayStation Vita Store.  The app, which was promised shortly after launch, allows for free Skype-to-Skype voice and video calling.  Furthermore, you can add credits to make phone calls all over the world from your PlayStation Vita utilizing the Wi-Fi or 3G connections (if equipped).
According to Manrique Brenes, Senior Director of Skype's Consumer Electronics Group, the app also includes, "high-quality video calling that utilizes PS Vita's front and rear cameras. The Skype app on PS Vita runs in "background mode" while you're gaming or using other applications* — meaning you have the capability to "pause" a game, conduct a call and then return to your previous activity — so you never miss a call."
Ironically, the Microsoft-owned Skype application lands on the PlayStation Vita while no official announcement has been made for the Xbox 360.  However, a Microsoft UK job posting indicates that the application will eventually hit the home console.
Source: US PlayStation Blog