Challenge Accepted – Wanderson75.net Joins Extra Life 2012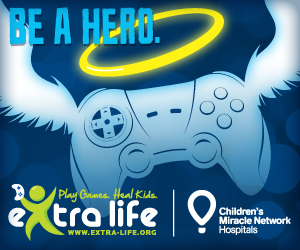 Contrary to popular belief, I have a lump of muscle tissue located directly behind my sternum.  Even more surprising, and flatly denied by my editor-in-chief, it does in fact pump through my veins something other than a congealed blend of rattlesnake venom and repressed hate. What's even more astonishing is that I am capable of thinking about kids in a context outside of whether they're tastier baked or fried.  About this time two years ago, these reality-breaking revelations acting in concert led  to my searching for gaming charities other than the widely known Child's Play.  This in turn put me squarely onto the path of the budding charitable juggernaut called Extra Life.
I've nothing whatsoever against the fully armed and operational engine of benevolence unleashed by the creators of Penny Arcade.  Their whole machine does naught but emit Good Things and I respect them highly for it.  I just wanted to do something other than punch in my credit card data and hit "accept".  I wanted to show my support for those in need in a manner other than monetarily.  The answer to my wishes came when I stumbled across an advertisement for the gaming marathon, Extra Life: Pick a local Children's Miracle Network hospital, collect donations, and partake in the aforementioned marathon.
Ordinarily, the word "marathon" denotes strenuous physical exertion, and as such would be avoided at all costs.  However, the word "gaming" found its way in as a prefix and suddenly we have a whole new ballgame.  Simple, straightforward, and right up my alley.
For the last two years I've subjected myself to this digital torture test on a solo basis.  Collect donations to help ill kids and pledge to play videogames for 24 hours straight.  Easy, right? Wrong.  Aching hands, dried-out eyes, and a faint sense of nausea were my constant companions as I slogged through the small hours, talking to myself while delirium took root.  At the end of last year's marathon, while proud of my overall performance, I strongly doubted if I had the fortitude to make it one more time around.  Then the solution struck.  What could be better than seeing other people suffering too?
So this year, I'm bringing friends.  That's right; your very own Team Wanderson75.net is registered for Extra Life 2012.  With the paltry sum of $5,000 as our goal we shall ride forth, banners bright and weapons ready in hand.  Many shall fall…or be used as bait…or emergency food supplies, depending on how things go.  But those who survive shall revel in the glory of having helped carry the bright light of charity into the darkness itself!
Which is where you come in.
We're not getting to that $5,000 all by our lonesome.  I have it on high authority a comprehensive list of senior citizens has been assembled for us to "solicit" in the event we seem to be falling short, but we don't want to go that route.  We'd much rather our friends, family, and loyal readers recognize that small things add up to big numbers, and those numbers in their entirety exist only to ease the life of kids dealing with things they never should.
So, we're doing what we can for the cause, now the question is: what are you willing to do?
***EDITOR'S NOTE*** If you wish to help us in our cause, simply follow this link to our page and click on any one of our names to donate.  Then tell your family, friends, and co-workers about our cause.  If we hit the $5000 mark, we'll double our goal.  If we hit that mark, we'll double it again.  This isn't a set in stone amount; we want to raise as much for the Children's Miracle Network as we can.  Stay tuned for future details, including our live webstream of our 24-hour marathon on October 20th!