First Developer Diary For Dust 514 Released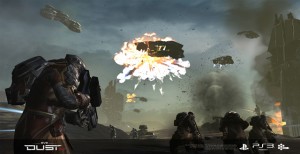 With Dust 514 on the horizon, CCP Games have released the first in a series of dev diaries entitled Welcome to New Eden.  This look inside the minds behind the game focuses on the title's special features and reasoning behind creating the title.  Viewers will also get a few brief glimpses at the game's development and even some gameplay footage.
Set directly in the EVE Online universe, Dust 514 is set to augment the MMO experience and help show another side of story: the battles planet-side.  If you'd like to check it out, then give our hands-on a read or sign up for a chance to play in the beta.
Dust 514 is set to launch sometime in Q3, 2012.