N7 Weekend Ahoy! Operation Shieldwall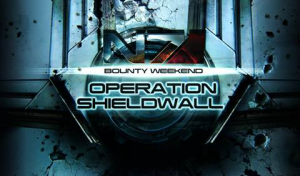 My fellow N7s, Congratulations!  We're officially boned.
As a result of our last failed N7 operation, karma is coming back to bite us hard.  This week's N7 operation is Shieldwall where the goal is to promote 50 000 characters overall.  The operation starts Friday, May 25 at 6PM PST and will continue until Monday, May 28 at 5AM PST (just like previous ones) and will be available on Xbox 360 , PlayStation 3, and PC.  If successful, we'll all earn Victory Packs, as added incentive, if your squad manages to promote 3 themselves, you'll also earn a Commendation Pack.  Now, this doesn't seem all that difficult until you find out that all those banshees that weren't killed last time have been multiplying and may show up against ANY enemy.  That means you can be fighting Cerberus and one of those screaming hitches will be right along side making your life miserable.  This weekend will be one for the books.
Hope to see you this weekend, shotgun in hand and a Krogan watching your back.