Doom 3 BFG Edition Coming to Xbox 360, PlayStation 3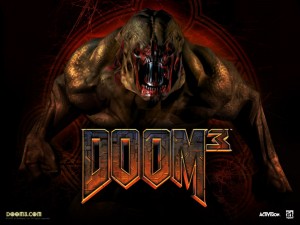 Bethesda today announced that Doom 3 will be getting an upgrade and coming to the Xbox 360 and PlayStation 3 this Fall.  Doom 3 BFG Edition will include the Resurrection of Evil expansion pack, as well as seven additional levels entitled The Lost Mission.
Along with new content, Doom 3 BFG Edition will also include 3D support, 5.1 Surround Sound, Achievements and Trophies, as well as improved rendering and lighting.  A new checkpoint save system will also be included in the game, as well as an armor mounted flashlight to allow you to see in the dark without having to switch back and forth between the light and your gun like before.
"DOOM3 was enthusiastically embraced by gamers worldwide at its release," said John Carmack, Technical Director at id Software. "Today, the full experience has been enhanced and extended to be better than ever, and is delivered across all the platforms with a silky smooth frame rate and highly responsive controls.  New support for 3D TVs, monitors, and head mounted displays also allows players to experience the game with more depth than ever before. We think shooter fans everywhere will love it."
Also included in the Doom 3 BFG Edition will be the games that ushered in the popularity of the first person shooter genre, Doom and Doom 2.  Take a look at the trailer below, and stay tuned for our Bethesda coverage next week from the E3 showroom floor!