Aliens: Colonial Marines Special Edition And Gamestop Pre-order Announced
The folks at SEGA and Gearbox Software announced today that Aliens: Colonial Marines will be getting the Collectors Edition treatment, alongside some pre-order incentives from Gamestop.
Gamers who pre-order the title from Gamestop will receive a health boost of content pulled from the Aliens universe, including additional customization options for their marines, access to Ripley's flamethrower, and four characters from the original movie.  These characters are Sargent Apone, Corporal Hicks, and Privates Drake and Hudson.
People springing for the collectors edition will receive all this pre-order content, plus more digital content including a USCM Academy firing range, a phase plasma rifle, and sonic electronic ball breakers.  To sweeten the deal even more, physical swag has been thrown in as well.  Buyers will receive a Xenomorph Hive box (presumably to house the entire package), a USCM dossier, and a highly detailed powerloader figurine, depicting a marine attempting to crush an attacking Xenomorph.   Take a quick gander at the total package in the screen below.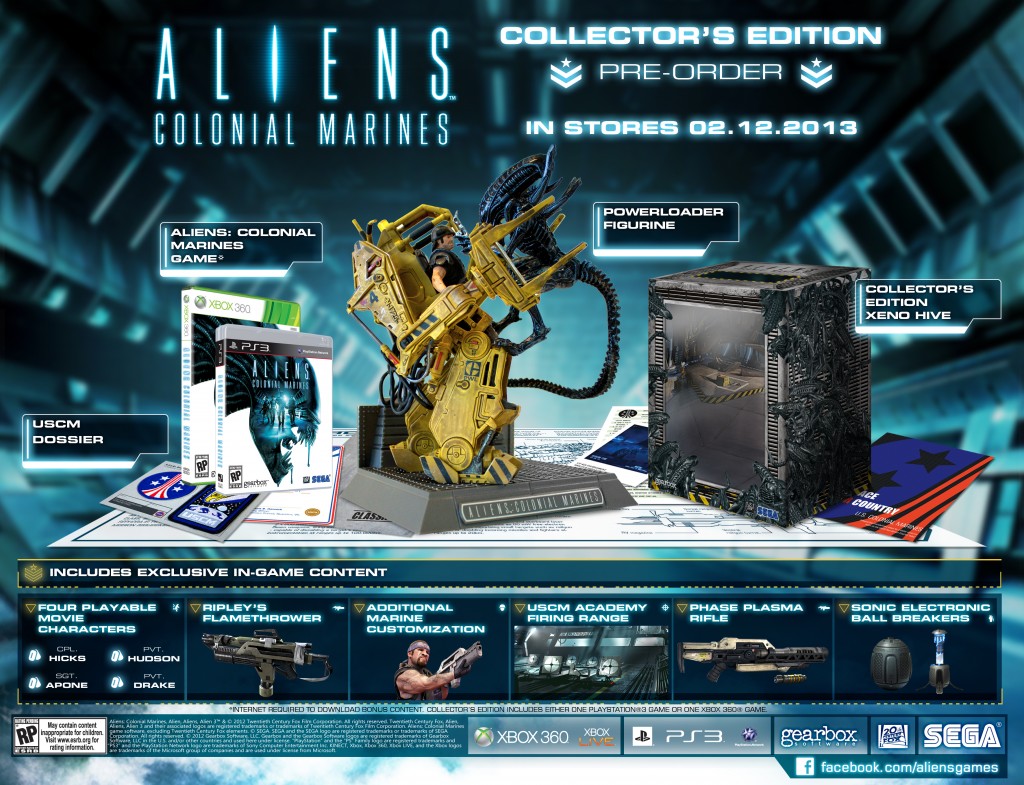 It seems Aliens fans will have something extra to look forward to, if they're willing to drop the extra dollars that is.  Do you think the Collectors Edition is worth the $99.99 price tag?  Leave a comment with your opinion!
Aliens: Colonial Marines is set to release on February 12th, 2013.