Sony Online Entertainment Announces Their E3 Lineup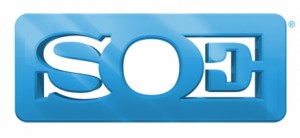 The people at SOE today revealed their line up for E3 this year, which includes a series of hands-on demos for current or upcoming titles, and two brand new game announcements. 
Attendees this year will be able to get their hands on PlanetSide 2 for the first time ever, as well as DC Universe Online's The Last Laugh DLC, EverQuest 2's new SOEmote facial recognition and voice technology feature, and the latest game to make the transition to free-to-play Vanguard: Saga of Heroes.  Gamers will also get to sit through some gameplay demos of Free Realms' expansion Sunstone Valley, and Star Wars: Clone Wars Adventures' Card Assault Trading Card Game.
Among the line up are two new titles as well, Bullet run and Wizardry online.  Bullet Run is a high-energy first person shooter set inside  a fictional reality show, and Wizardry Online is based on the classical Wizardry games, retaining the series characteristics while mixing in modern MMORPG mechanics.  Both will also have hands-on demos available, so gamers will get a sneak peek at these future releases.
Seems like E3 is going to quite busy for the MMO fans, as SOE has quite a large line-up planned.  We'll be there taking in all the sights, so stay tuned for more!