Dawnguard Lands On Xbox 360 Tomorrow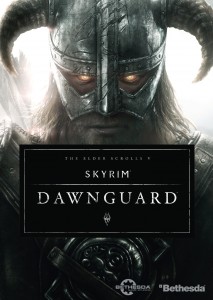 The first official DLC expansion for the highly acclaimed The Elder Scrolls V: Skyrim arrives on the Xbox 360 tomorrow for 1600 Microsoft Points.  Featuring an all new faction quest line, locations, weapons, creatures and more, the Dawnguard expansion pack promises hours of entertainment.  Two new perk trees, the Vampire and the Werewolf, will also become available to you depending on the path that you take.
The expansion's primary quest involves the Vampire Lord Harkon as he returns to power.  As he seeks to use the Elder Scrolls to end the sun itself, you will choose to either join the order of Dawnguard in their mission to defeat him, or become a Volkihar Vampire Lord yourself.
The Elder Scrolls V: Skyrim – Dawnguard DLC pack is a timed exclusive for the Xbox 360.
***CONTEST ALERT*** – It's our birthday!  And we're giving out the presents!  On June 20th of last year, a bunch of opinionated people came together to give our take on video games, technology, and gamer life.  The response has been absolutely wonderful!  In one year, we've amassed a quarter of a million page views and continue to grow.  It's with your support that we've been able to cover events such as CES and E3, review and preview some of the hottest games, and the get our hands on the latest technology.
As a token of our gratitude, we are giving away a brand new PlayStation Vita (Wi-Fi model) to one lucky reader out there.  All you have to do to get a chance is to head over to our Facebook page and mash on that like button.  On June 30th, we will randomly pick a winner to receive this bundle worth $250.  This contest is open to the continental US and Canada only.