Dust 514 Mercenary Pack Offers Beta Access
CCP today announced the unveiling of a DLC pack for the upcoming free-to-play PlayStation 3 FPS, Dust 514.  The Mercenary Pack not only gives players some additional goodies in-game, but also guarantees purchasers an All Access Beta pass, granting access to all beta weekends, as well as "additional play sessions during off weekends."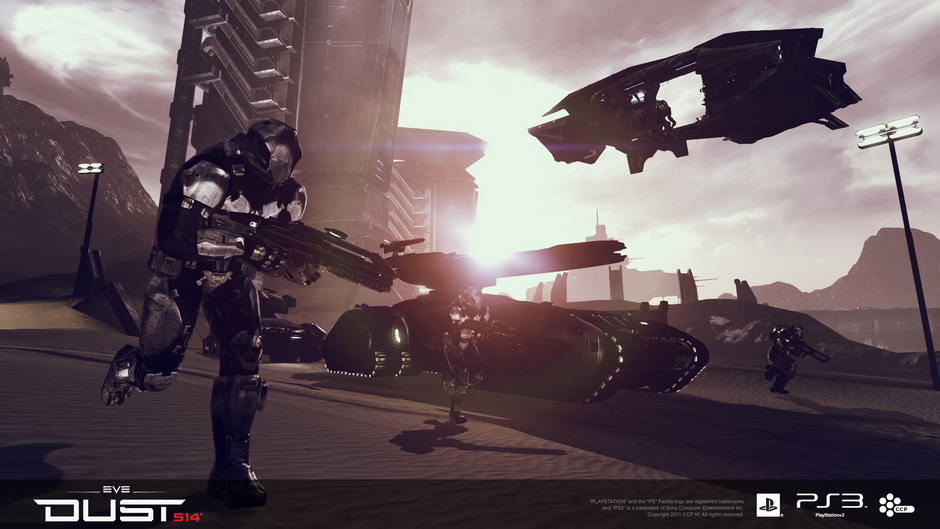 The Mercenary Pack can be purchased through the PlayStation Network for $19.99 and contains:
4,000 Aurum – the in-game currency for Dust 514; a $20 value.
30-dat Active Skill Booster – increases earned Skill Points (SP) by 50%
'Dragonfly' Scout Dropsuit – a uniquely designed armor with unlimited use.
'Toxin" ICD-9 Submachine Gun with unlimited use and a custom skin.
HK4M Shotgun X 50
Hacked Drop Uplink x 50 – allows players to create on-the-spot spawn points for their teammates.
Fused Locus Grenade x 50.
1.5dn Myofibril Stimulant x 50 – offers players a temporary melee damage boost against opponents.
Dust 514 is set in, and integrated with the Massive Online Multiplayer Universe of EVE Online.
***CONTEST ALERT*** – It's our birthday!  And we're giving out the presents!  On June 20th of last year, a bunch of opinionated people came together to give our take on video games, technology, and gamer life.  The response has been absolutely wonderful!  In one year, we've amassed a quarter of a million page views and continue to grow.  It's with your support that we've been able to cover events such as CES and E3, review and preview some of the hottest games, and the get our hands on the latest technology.
As a token of our gratitude, we are giving away a brand new PlayStation Vita (Wi-Fi model) to one lucky reader out there.  All you have to do to get a chance is to head over to our Facebook page and mash on that like button.  On June 30th, we will randomly pick a winner to receive this bundle worth $250.  This contest is open to the continental US and Canada only.