Activision Announces Angry Birds Trilogy Coming To Consoles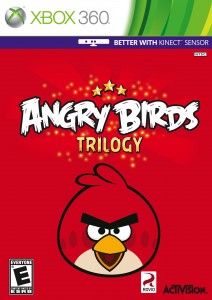 If you're a part of the sensation that is Angry Birds, you'll soon have another platform to play it on, as Activision have announced the Angry Birds Trilogy is coming to a console near you.
The collection is set to include the original Angry Birds, Angry Birds Seasons, and Angry Birds Rio, all remade in glorious HD.  Each game will also be tailor made for its console, including Kinect compatibility for the Xbox 360, Move support for the PS3, and Stereoscopic 3D and StreetPass features on the 3DS.
If you've yet to get into the Angry Birds craze, it seems you'll have another chance, as the Angry Birds Trilogy launches sometime this holiday season.  Stay tuned for more information and a full review at or around launch!