Halo 4 Xbox 360 And Accessories Revealed at SDCC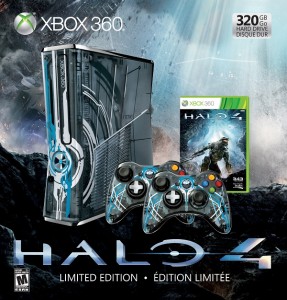 This last weekend, Microsoft revealed the Halo 4 Limited Edition Xbox 360 console at the San Diego Comic Convention.  The bundle includes a 320GB Xbox 360 console complete with two wireless controllers beautifully wrapped in a Halo 4 inspired theme as well as content exclusive to the bundle.  The Xbox 360's ring of light, as well as the Xbox guide buttons on the controller will don a cool blue hue as opposed to the trademark green of the standard console.
The bundle also includes a standard edition of Halo 4 and retail at $399 in the United States and Canada.
Microsoft will also be releasing a limited edition Halo 4 Xbox 360 wireless controller for $69.99 USD and CDN.  The controller features a UNSC logo and be encased in a dark grey translucent body and feature the cool blue guide button as well.  A Xbox Live token for a Halo 4 avatar t-shirt will be included in the package with the controller.
Halo 4 launches on November 6.  Take a look at the pictures below and watch out for our review sometime around launch!