New Details On Pokémon Black/White 2, Dream Radar, and Pokédex 3D Pro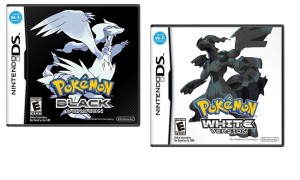 Nintendo today announced new details on the upcoming Pokémon Black Version 2 and Pokémon White Version 2, as well as Pokémon Dream Radar and Pokédex 3D Pro games which will interface with the new Black/White.
Pokédex 3D Pro will be releasing on the Nintendo eShop on November 8th.  The companion app allows players to view detailed information on over 640 Pokémon and even test their knowledge with the new Pokémon Challenge; a mini game that quizzes the player to test how much they really know about the Poké-verse.  Pokédex 3D Pro will replace the existing Pokédex 3D, which will no longer be available in the eShop after October 1st.
Pokémon Dream Radar, which launches on October 7th in the Nintendo eShop, will allow players to capture Pokémon and items using augmented-reality by moving the Nintendo 3DS to aim and shoot Dream Clouds.  Pokémon and items captured in Dream Radar will be able to be transferred to Pokémon Black Version 2 and Pokémon White Version 2.  According to the presser:
The game lets players take on the role of an assistant to Professor Burnet, a scientist studying the Interdream Zone. The Pokémon that players catch in Pokémon Dream Radar may have hidden abilities that aren't available in Pokémon Black Version 2 and Pokémon White Version 2, and many of the items in the game cannot be found in Pokémon Black Version 2 and Pokémon White Version 2.
Two new features for Black 2 and White 2 have been revealed as well; Join Avenue and Memory Link.  Join Avenue is an area populated by anyone with whom a player has interacted through wireless tag mode, trading, or battling.  Those players will be able to open up shops that sell rare items not found in the game, as well as supplies or the ability to power up Pokémon.
Memory Link allows players that have played the original Pokémon Black or Pokémon White versions to get a glimpse into what's happened to characters from the original games over the last two years.  The scenes that players are able to view are determined by how far players progressed in the first two games.  Players that want to use Memory Link, will need to have either two systems from the Nintendo DS or Nintendo 3DS family, or broadband Internet access and a Pokémon Black Version game or Pokémon White Version game that has been synced to the Pokémon Global Link website.