Everyone Sing – New Party Modes Announced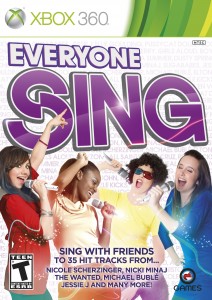 O-Games, Inc today announced a few new game modes for their upcoming singing game, Everyone Sing, as well as a new trailer.  The new modes announced are:
Team Classic: Prepare for singing combat! Players split into two groups and, with their team, take lead or backing vocals to compete for the highest point totals to win the round.
Last Man Standing: Players get into groups and sing their hearts out in a vocal competition where each group has 10 lives. If a group member messes up the lyrics that group loses a life. The group with the most lives at the end of the song wins the round and becomes the last man standing.
Tug of War: Hit the notes and sing on key to win the match of tug of war. The team with the most points wins by 'pulling' their opponent to the center mark displayed on screen.
Party Mix: In Party Mix, up to eight friends are challenged with four randomly selected, stylistically different songs. Team members can take turns during their "mix" to help their team earn maximum points and win the round.
Pass the Bomb: Pass the bomb before it explodes! Featuring up to eight players and a randomly timed bomb, teams must record a 'flawless' score when singing each line in order to pass the ticking time bomb before it explodes. The team that loses all three of its lives first loses the game.
Everyone Sing will land on the Xbox 360, Sony PlayStation 3, and Nintendo Wii in Septemeber and feature a mix of over 30 hit songs ranging from today's artists to the best of the oldies.  Take a look at the trailer below and stay tuned to Gamer Living for more news as it's made available.