NEOGEO X Gold Entertainment System To Release This December
Many gamers that have been around for a good chunk of the "golden age of gaming' will agree that the NEOGEO home console was ahead of its time.  Well, apparently SNK Playmore and Tommo Inc. agree with that sentiment and have decided to bring a gen from the past back into the present with the NEOGEO X Gold Entertainment system.
Slated for a December release to celebrate the 20th anniversary of the NEOGEO AES console, the X Gold will come with both a home arcade unit, as well as a handheld, along with 20 classic SNK titles.  According to the presser:
The NEOGEO X GOLD entertainment system comes complete with the NEOGEO X Station, the NEOGEO X Handheld with 20 pre-loaded NEOGEO classic titles, and the NEOGEO X Joystick. In addition to coming pre-loaded with 20 NEOGEO classic titles, the NEOGEO X Handheld device features a crisp 4.3″ LCD display, an expandable game card slot, internal stereo speakers, and a 3.5mm headphone jack for a personal gaming experience you can take anywhere. The NEOGEO X Handheld device works with the NEOGEO X Joystick and NEOGEO X Station to charge the handheld device and transfer the action directly to a television set or monitor, via HDMI or A/V out, for a true arcade experience right at home.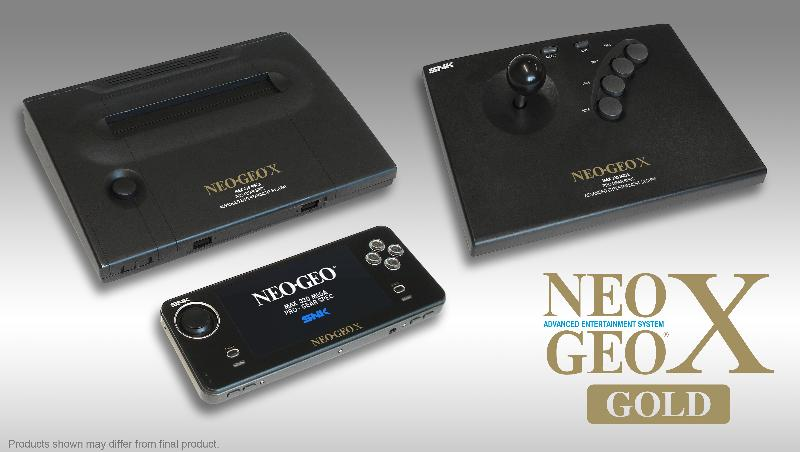 "Great game consoles don't die; they're just reborn in much more affordable and convenient packages," said Tommo CEO Jonathan Wan. "The NEOGEO X GOLD is a love letter to one of my favorite consoles of all time, and working with SNK PLAYMORE to acquire the NEOGEO license, Tommo Inc. looks to provide gaming and entertainment enthusiasts with a classic arcade experience both at home and on the go."
The 20 titles coming with the console include:
3 Count Bout
Art of Fighting II
Alpha Mission II
Baseball Stars II
Cyber Lip
Fatal Fury
Fatal Fury Special
King of Fighters '95
King of the Monsters
Last Resort
League Bowling
Magician Lord
Metal Slug
Mutation Nation
NAM 1975
Puzzled
Real Bout – Fatal Fury Special
Samurai Shodown II
Super Sidekicks
World Heroes Perfect
More details are sure to follow soon.  So stay tuned to Gamer Living for the latest updates, or head on over to the NEOGEO X Gold site to sign up there!  The NEOGEO X Gold bundle will retail for $199 and is sure to be a perfect collector's item for the retro gaming enthusiast!