Thrustmaster Announces Ferrari 458 Italia Cockpit For Xbox 360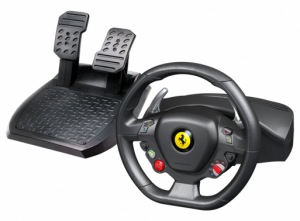 Thrustmaster today announced that pre-orders are now being taken for a premium steering wheel setup for the Xbox 360; the Ferrari Vibration GT Cockpit 458 Italia Edition.  Featuring a Global Vibration System technology, the vibrations from the high-frequency motors can be felt not only in the wheel, but in the steering column and pedals as well.  According to the presser:
"This provides incredibly realistic effects and total immersion in racing games. The ultra-precise wheel, featuring 16-bit performance for more than 65,000 values on the wheel's steering, allows players unparalleled control in turns. Gear shifting is carried out via the metal sequential paddle shifters and the wheel features a Manettino dial, just like on the real Ferrari. Textured rubber grips on the wheel ensure optimal comfort, and the cockpit even includes a headset connector for communication during multi-player gaming."
The steering wheel features the "Musetto" body shape with a 7/10 scale replica of the Italia 458 steering wheel at 11.2″ wide.  The base of the racing wheel is weighted for a total of 22 lbs., providing stability in the most intense of racing scenarios.  The pedals too, have some exceptional features.  The two metal pedals are built directly into the system for additional stability, and feature a long-range of travel with a progressive resistance designed for maximum accuracy.  The racing wheel setup can be plugged directly into the gamer's console or PC for easy installation.
Slated to drop in September, the racing wheel setup will be going for a retail price of $299.99.  Considering our experience with Thrustmaster's past products, we are definitely looking forward to taking this new setup out on the open road.