Dames Making Games: Toronto Women Create Games In Six Weeks
On the evening of August 18, site staff Vicky, Marce, and Jack headed out into the wilds of Toronto to visit Bento Miso, a creative collaborative workspace located just south of Queen Street West (862 Richmond Street West). It was here that the Dames Making Games (DMG) organization was holding a celebration to honour the creations of their 'Jeuxly' (pronounced July) initiative, which intended to introduce six women with no history of game development to the development scene. The ultimate objective was for each of the women to have a playable game to offer at this showcase, six weeks after the program launched.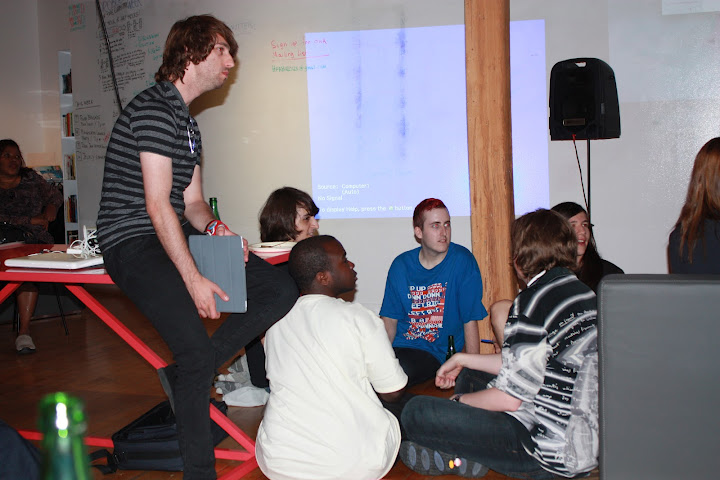 Beginning with a brief introduction from the two project heads, Cecily Carver and Jennie Faber, each of the female developers was then introduced to the crowd, given a chance to show their game, and gave a brief talk on their backgrounds, their design decisions, and where they hoped to go from this point on. There was a definite variation in each of the background stories, although understandably, the majority came from artistic and creative backgrounds. The games were equally varied, with platformers, puzzlers and fighting games all on offer.
Several workstations were set up where guests were allowed to check out each of the games for themselves after the presentations, as well as being able to chat and mingle with the developers and founders.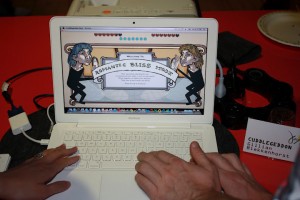 The first game discussed by its developer was entitled Une Semaine de Bonté, based on Max Ernst's 1934 novel of the same name, and was developed by Julia Ediger. Julia comes from an animation production and comics background, and decided to create a card-matching puzzler based on the surrealistic imagery of Ernst's work.  The game also featured excerpts from Arthur Rimbaud's A Season in Hell, a poem originally published in 1873.
Next up was Having It All, a career-based platformer with a comedic edge from Miriam Verburg. Previously a project manager for game design and development, Miriam was well-versed in the dynamics of office environments and the challenges that women face in such workspaces, and decided to focus on this with her game. Having It All is based on the article, "Why Women Still Can't Have It All,"  originally published in The Atlantic, and the game sees players taking on the avatar of a business woman, with the objective of drinking as much coffee as possible, stomping on babies, and smashing through the glass ceiling, which becomes more than metaphorical in this game.
The third of the developers to showcase her efforts was Marie LeBlanc Flanagan, whose game Þink (pronounced 'think' –the first character is from Old English) presented players with the objective of planting an idea and slowly nurturing it. The idea, which takes on the form of a plant in the game, starts as a seed and gradually blooms into a full plant. Guiding rainclouds and scaring birds by using a disembodied hand, the idea gradually became a fully-formed thought as the game progresses. We had a chance to talk with Marie whilst trying the game, and she mentioned that she's never been much of a gamer, and instead came to the program following a chance encounter with Cecily Carver at a Ladies Learning Code event.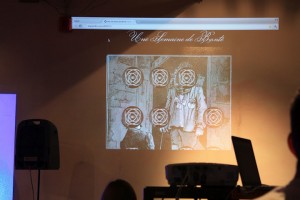 Marie outlined that she enjoys making and building things, and that she's interested in ideas. Seeing the Jeuxly incubator as a chance to explore "how games prime the mind," Marie was intrigued by the opportunity of learning in an environment where everyone starts at the same level of experience (i.e. none) and creates a nurturing environment where women are free to explore ideas and create masterpieces.
Following Marie was Gillian Blekkenhorst, whose Cuddlegeddon was quite possibly the best-named entry of the evening. Taking on the guise of a 2D-fighting game, Cuddlegeddon attempts to explore "metaphors for relationships and how the brain works" and gives two players the chance to throw each other cuddles or cold-shoulders, in the form of projectiles. Depending on the outcome, players could either destroy any chance they had at a beautiful relationship, or they could come together and fight against the outside world, with the outcome of growing old and dying together.
Yuliya Boublikova was next up, with Golden Fall, a 2D platformer starring an Indiana Jones-inspired squirrel. The objective of the game is to collect golden apples, and the game itself is based on a tale in Greek Mythology where Hercules steals golden apples from the Garden of Hesperides. Yuliya graduated from the animation program at Sheridan College and currently works as a freelance animator and illustrator. Yuliya has actually had the squirrel character in mind for a number of years, and realised that the DMG incubator would be an excellent opportunity to create a game that "reflected her artistic sensibilities."
Last up, and the only game running on PC, as opposed to Mac, was Bitmap, by Christine Kim. Taking on the guise of a 2D sidescroller, Bitmap was presented as a mash-up of Snake and 'bullet-hell' shooters. Christine has a background in videogame theory and a Master's degree in New Media Art History from OCADU, and therefore came to the project with perhaps the most experience of the group. She set out to "combine her deep theoretical knowledge about gameplay and games as art with experience with the practical side of game […] development."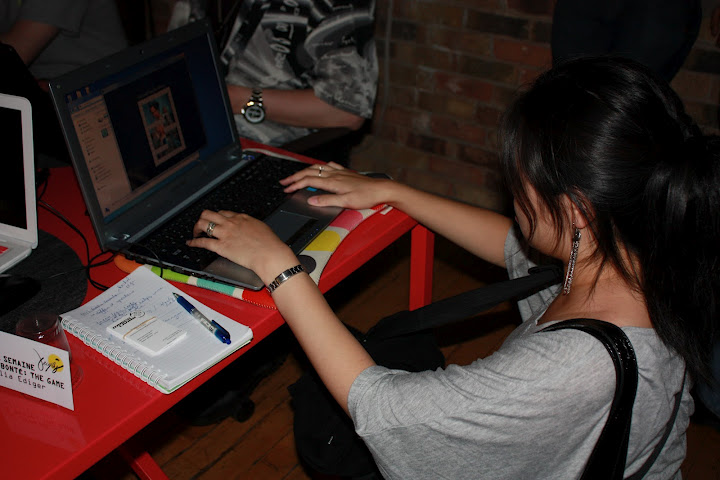 And so, with the talks wrapped up, we moved on to play the games we had just been introduced to. All worked and played admirably, particularly considering their six-week development schedule, and can certainly be presented as yet another feather in the cap for Toronto's burgeoning indie development scene. With events such as this, as well as TOjam and the upcoming First Person Show, it certainly seems like Toronto has a great deal of development talent bubbling just under the surface.
Bento Miso has further events in their upcoming schedule as well, with another Dames Making Games effort slated for sometime in the fall, likely October or November.  In conjunction with the DMG incubator program, Bento Miso co-hosts New Game Makers, a workshop series discussing anything related to game development,  from visuals to music, programming and game design.  For those who just want a chill place to hang out with friends and others in the gaming community, Bento Miso hosts a biweekly event called Games with Friends.   For more details, visit Bento Miso's website.  If you're interested in participating in the next Dames Making Games incubator, or even have any punny names for DMG's  events (they're always looking for them!), then feel free to check out their site.