New A World Of Keflings DLC Announced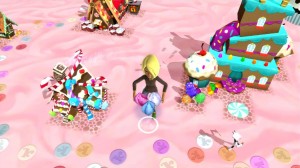 If you're jonesing to get some fresh content for A World Of Keflings then you will be getting your fix soon, as Ninja Bee announced that a new expansion is coming soon – who's theme was selected by fans in a contest earlier this year.
Entitled Sugar, Spice, and Not So Nice, the fan-voted DLC chapter takes players to a mountaintop candy kingdom and features something new for the game: a villain.  A mischievous wizard has plans to take control of Candy Peak, which is full of chocolate volcanoes, gingerbread houses, and fudge fortresses.  The release also features a fan-created character known as Kari the Last Chocolatier, who is set to play a key role in the expansion's story.  A trailer has been revealed as well, which is attached below for your viewing pleasure.
Did you catch the surprise?  Looks like fans of the game have a lot to look forward to as its DLC roster continues to grow.  While a release date and price has yet to be announced, it seems like this expansion is going to hit gamers in their sweet tooth.  Stay tuned to GamerLiving.net for more info on Sugar, Spice, and Not So Nice as we receive it, and a full review around launch!