Just Dance 4's Toronto Launch Party and Hands-On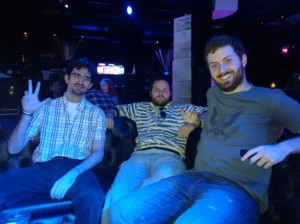 With less than a week to go before the American launch of Just Dance 4, Ubisoft showed us Torontonians just how to party on Wednesday, October 3, 2012.  Ubisoft Canada's launch party was held at Maison Mercer, a chic nightclub situated in the heart of Toronto's Entertainment District.   The event coordinators definitely knew what they were doing when they picked the venue—with its multilevel floors, central stage, leather couches, fully supplied bars, and professional dancers showing off their Just Dance moves, the party was hopping right from the start!
Gamer Living arrived en masse with Will, Ron, Jack, Blair and yours truly to party it up – but more importantly, to try out Just Dance 4!  Even before we stepped foot inside the club, we could hear the game's soundtrack thumping a lively rhythm.  Once inside, we were each handed a VIP wristband and colourful Just Dance 4 sunglasses, and we were ushered into the booming central floor.
The club was set up beautifully, very much mimicking the in-game environment with neon strobe lights flashing around the dance floor.  Along the edges and in the raised corners of the club were gaming stations, each complete with a huge TV and Xbox Kinect.  The message was clear: No wallflowers allowed tonight!   Professional dancers were at each station to help navigate the menus and to dance along, occasionally shouting out encouragements or enthusiastically coaching players on the next moves.  In centre stage were at least four dancers (who were on constant rotation) freestyling and enticing party-goers to get up and groove to the music.  Although the lounge areas beckoned people with its assortment of drinks set in ice buckets and wait-staff offering delicious snacks, if you decided to sit for too long on the comfy couches, the dancers would come up and encourage you to try the game.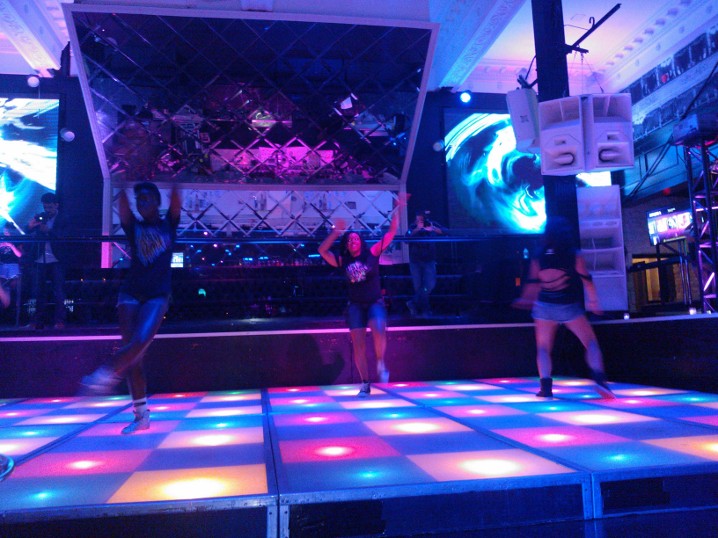 Almost no time passed before the writers and editors of Gamer Living were talked into going onto one of the raised platforms to test out their moves.  Again, the set-up of the stations is quite noteworthy; the event coordinators somehow managed to make each station semi-private, so even though you were in a club full of people (and on a raised platform, no less!) you were somewhat obscured from the public eye, due to the clever placement of the TVs and paraphernalia – or so we told ourselves as we picked our songs.
As always, Ubisoft has managed to cram an eclectic selection of songs into their fourth title of the Just Dance franchise.  With almost 50 songs to choose from, there's bound to be something for everyone, ranging from Top 40's to Classic Rock, Rock N' Roll to Ethnic, as well as some Dubstep and silly songs (like "Time Warp") tossed in there for good measure.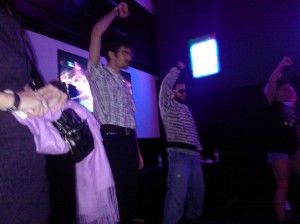 Among the five of us, we managed to dance through "Moves Like Jagger" by Maroon 5 featuring Christina Aguilera, Will Smith's "Wild Wild West", "Rock Lobster" by The B-52's, "Umbrella" by Rihanna featuring JAY-Z, and Skrillex's "Rock N' Roll (Will Take You To The Mountain)".   After dancing through such a wide range of songs, it was obvious that Ubisoft decided to keep things fresh – which can be a difficult feat given the genre.  Yet, from what we've seen so far, fans of Just Dance are in for a treat!
The developers at Ubisoft kept all of the key features of the game while making enhancements here and there.  One big change you'll notice is the menu interface for the Kinect version; instead of hovering your hand over your selections, you now 'press' to touch the options and 'yank' your chosen song out.  Another addition is the Dance Quests which, once completed, reward players with points towards their Mojo that will help unlock special items.  And that's only what we've gleaned from the regular Dance Mode!
But no worries, you'll soon be able to unravel all of what Just Dance 4 has to offer.  In fact, the Canadian fans have something to be doubly thankful for this Thanksgiving: great eats and the release of Just Dance 4 the following day to work off those extra calories ingested over the holiday!  So, lay out your party outfits and grab your dancing shoes as we begin counting down to October 9th to dance the night away!